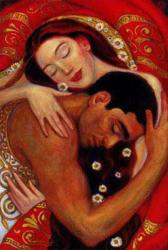 "One of the best ways to bring consciousness to sex is to slow everything down enough to really feel what's happening"
Encinitas, California (PRWEB) March 20, 2013
Studies have shown that mindfulness practice is leading the way to better loving. Mindful sex refers to the practice of focusing on the present moment which, when done correctly, can be incredibly alluring. After all, what's hotter than a lover who's is paying attention?
"Mindfulness helps to interrupt your over-active thoughts to concentrate more on the subtle and not-so-subtle sensation (that are) being aroused. Women in particular have a tendency to have thoughts flood their mind during intercourse. Anything from the grocery list to project details. And both men and women may find themselves stumped in their pleasure with brooding self doubt," says CEO and founder of The Ecstatic Awareness Institute, Triambika Ma Vive. "One of the best ways to bring consciousness to sex is to slow everything down enough to really feel what's happening"
While coaching couples in and out of the bed room Triambika asks the pair to slowly come close and smell each others essence before diving into a kiss. She continues guiding the act of kissing by having them press their lips against and instead of just kissing focus on tasting one anothers lips to notice the softness and texture from every angle. Triambika adds "Conscious sex starts with the relationship itself. Building trust, intimacy and loving communication builds the pleasure bond between two people".
Spiritual-sexuality educator and expert intimacy coach, Triambika shares a few more tips to spruce things up in bed:
Just Breathe
Explore synchronizing the breath while making love. This gives the mind something to focus on while joining with one another in a very intimate and erotic way. Notice the natural rhythm of movement caused by the arousal and stay connected through the shifting rhythm of the breath.
Limit distractions
Just like turning off the television while trying to have a meaningful family dinner, close the laptop and turn off the cell phone, call a baby-sitter, whatever it takes. Dim the lights if it helps and turn on some soft meditative music to get into a ritual space.
Find mindful moment everywhere
Each day there are multiple opportunities to stop talking, stop hurring and simply gaze softly into one another's eyes or in a full bodied embrace and take a few slow deep breaths together. These small moments or 'sacred quickies' will naturally open the lines of sexual intimacy when the time comes.
Get in the pilot seat of your sex life
Being on autopilot is the enemy of good sex. Catching the wandering mind and staying present to sensations is a perfect antidote to autopilot. Be an active receiver by vocalizing the feelings and sensations that arise.
Add an extra helping of sweet talk
Partners who criticize one another need to stop it right now! This will rob any sex life blind. Instead try authentic expressions of appreciation. Say positive things to one another and throw in a few compliments. Everyone needs an ego boost once in a while and remember what goes around comes around.
Ecstatic Awareness is an emerging educational institute dedicated to bringing high-level quality teachings about conscious intimacy and the art of loving relationships. For more information contact Triambika Ma Vive at dakini(at)ecstaticawareness(dot)com - 1-510-205-3569.