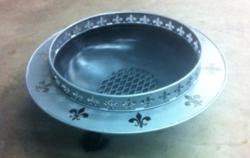 Just give Casey Perritt an idea and stand back!
Arcadia, Louisiana (PRWEB) March 18, 2013
CNC Fabricators, LLC today announced that it has filed to become a new Louisiana company specializing in design and creation of custom-made products cut from wood and metal to be marketed throughout the United States and Canada.
The company plans to leverage the 20 years of CAD drawing experience of owner Casey S. Perritt along with the ornate wood and metal-cutting capabilities of the newest plasma-cutting technology to fashion just what the customer has in mind.
"This new plasma-cutting technology allows us to consistently remake our most popular products like our fire pits, fireplace covers, wall decorations, and picnic tables or produce one-of-a-kind creations for our customers out of metal or wood." said Casey S. Perritt, CEO of CNC Fabricators, LLC.
CNC Fabricators' Business Manager, Randy Rogers said, "Casey is what I call a triple threat. He's an artist, a designer, and he can build what he designs. Probably more important, to us as a company, is how Casey can build what the customer wants. Some customers will come to us with just an idea - something they've scratched on a piece of paper even - never been built before. Casey is the absolute best I've ever seen at turning customer ideas into reality."
"We're looking forward to carrying some of their products in our store, said Tony Farley, owner of a retail store near Ruston, La. "Every item I've seen that Casey's made has been of the highest quality. I predict these products will be fast sellers."
In addition to products to individuals and retailers, CNC Fabricators, LLC will also perform work for custom home builders and landscapers who are looking for specially-crafted unique items to accent a home, patio, or garden. They will be at booth 201 at the upcoming Northwest Louisiana Home Builders Association Home Products Show in Shreveport, Louisiana March 22 – 25th 2013.