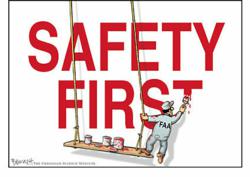 Highland Park, IL (PRWEB) March 20, 2013
OSHA has updated its Hazard Communication Standard, marking the first significant change to Safety Data Sheets (SDS), labeling and other forms of hazard communication in the United States in nearly 30 years. One of OSHA's key stated goals with the update is to evolve from the established worker "right to know" to the worker's "right to understand."
This new information on the GHS standard must be relayed to employees and training must take place by December 1, 2013 in order for employers to stay in compliance with OSHA.
Exposure to hazardous chemicals is one of the most serious dangers facing American workers today," said Secretary of Labor Hilda L. Solis. "Revising OSHA's Hazard Communication Standard will improve the quality, consistency and clarity of hazard information that workers receive, making it safer for workers to do their jobs and easier for employers to stay competitive in the global marketplace.
For more information on this new release of Spectrum Training Services, Inc.
Call +1-877-366-0611 or email info(at)illinoisoshatraining(dot)com.
About Us
Spectrum Training Services, Inc's mission is to provide training that is effective and will lead to a decrease in job site injuries, accidents, and deaths. The Spectrum System is the perfect way to bring your facility into OSHA compliance quickly and inexpensively.
Contact us for more information and questions.
877-366-0611
info(at)illinoisoshatraining(dot)com
http://www.illinoisoshatraining.com