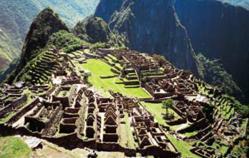 This is the most powerful journey of a lifetime. Blending the sacred sites, the breathtaking beauty of the land, with Jorge's wisdom and Anahata's presence is absolutely extraordinary!
Sedona, AZ (PRWEB) March 16, 2013
The demand for Spiritual retreats and Shamanic journeys with a focus on personal healing and Spiritual awakening continues to expand. Providing participants with a soulful retreat experience is the primary intention of Shamangelic Retreats with Anahata. Each retreat blends healing services, land journeys, ceremonies and inspirational content. Based within the powerful and sacred beauty of Sedona, Arizona, Shamangelic Retreats has expanded its retreats for healing and awakening to include the majestic lands and sacred sites of Peru.
The upcoming Sacred Equinox Journey to Peru is scheduled for September 12th-25th, 2013. This Spiritual retreat to Peru is a Shamanic journey into healing and awakening the sacred heart. Through the power of the ancient lands, the timeless cultural wisdom, sacred sites such as Machu Picchu, empowering healing services, sacred ceremonies and inspirational teachings, profound transformation is experienced.
Shaman Jorge Luis Delgado, who is the chosen Peruvian delegate at the international gatherings of the tribal elders, is one of our personal guides. Jorge will share the ancient mysteries and Shamanic wisdom of his ancestors as well as guide many sacred land ceremonies. Anahata Ananda, the primary facilitator, will host meditation, inspirational workshops and hold private Shamangelic Healing sessions.
The retreat includes 12 nights of accommodation in the Mystical Sacred Valley and Ancient Capitol City of Cusco. During the retreat, the Lost City of the Incas in Machu Picchu will be explored for 3 days over the Equinox Portal. The ancient ruins of Ollantaytambo, Saksaywaman, the Temple of the Sun and other sacred sites will be visited. There will be plenty of opportunity to enjoy the vibrant and colorful Quechua people, mountain villages and thriving markets. Optional healing services such as Shamanic healing sessions, Spiritual readings, herbal steam baths and relaxing massage are offered.
Whether participants are seeking a soulful Sacred Journey to Peru or a Tailored Sedona Retreat of Transformational Healing and Spiritual Awakening, Shamangelic Retreats provides a profoundly empowering experience. Sedona Arizona's premier center for Shamanic Healing and Spiritual Awakening, offers a full complement of Shamanic Healing sessions, Shamanic retreats, sacred land journeys, as well as training courses in energy healing and Shamanic teachings.
The Shamanic healer and teacher, Anahata has trained extensively with gifted shamans, energy healers and spiritual teachers from Peru, India, Asia and North America in order to artfully integrate the fields of energy healing, self-empowerment, shamanic teachings, emotional release, spiritual studies and visualization techniques. Blending the compassion and tenderness of an Angel and the wisdom and strength of a Shaman, Anahata guides journeys of profound healing and awakening. Her extensive client base spans the globe and includes business professionals, parents, couples, healers and individuals of all ages, who seek to heal and awaken their fullest potential.
Anahata is the founder of Shamangelic Healing and Shamangelic Retreats based in Sedona, Arizona. Clients seeking Spiritual awakening, transformational healing services, conscious relationship counseling, sacred land journeys or training courses choose from a wide range of options in order to create a tailored personal experience. Anahata's Shamangelic Healing Sanctuary is nestled beneath Sedona's famous Thunder Mountain, with 360 degrees of breathtaking views, walking distance from an ancient medicine wheel and healing vortexes, making this the perfect setting for healing and expansion.
For detailed descriptions of the Shamanic healing sessions, sacred journeys to Peru, soulful ceremonies, land journeys and training courses offered by Anahata visit http://www.ShamangelicHealing.com.