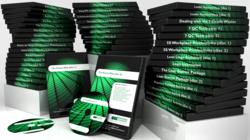 Mukilteo, WA (PRWEB) March 17, 2013
Gemba Academy, the leader in online lean and six sigma training, is pleased to announce a March promotion for 68 lean and six sigma training DVDs, including worldwide shipping.
Specifically, between March 1 and March 31 anyone that purchases a 1-year subscription to the School of Lean and School of Six Sigma will receive all of Gemba Academy's 450+ training videos on 68 DVDs at no additional cost, including worldwide shipping. Sold by themselves these 68 DVDs retail for $2,295.
Additionally, subscribers will also receive a single user license to Minitab 16/Quality Companion 3 and SigmaXL for no additional charge.
This promotion will remain open to the first 500 customers or until March 31, whichever comes first.
Gemba Academy training programs are unique in that there are no per-seat or per-view fees. For one set price an organization can train as many people as necessary, as often as required, at a single site. The modules are delivered in high definition (HD) format so they can be viewed at an individual computer or projected into a training room with no loss of quality. An online subscription provides access to all current and future material, with DVDs also available.
Learn why over 1,000 organizations use Gemba Academy lean manufacturing and lean enterprise training products at http://www.gembaacademy.com.