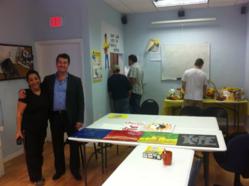 Miami, Florida (PRWEB) March 16, 2013
If anyone has been following Into Action Treatment over the last couple of weeks, they will have noticed a common theme from the South Florida drug rehab and addiction treatment center. They place a heavy focus on the arts, whether it is through art therapy at the center or on weekend outing to art shows and community theater plays. This week, they invited Maru Anez, an art therapist to the center to help lead their clients through an expressive art therapy exercise.
Maru Anez was born in Venezuela and attended the Academie Charpertier, an art school in Paris, France. She later returned to Venezuela where she attended Academia Las Mercedes, a fashion school. She has been involved in art ever since.
Into Action Treatment invited Maru to come down and lead a group this week, where the clients painted tiles expressing life and hope. The tiles will soon be part of a mural on the wall at the center where they will be inspiration for all current and future clients at the drug treatment center.
Andrey Rossin is the CEO and founder of Into Action Treatment, which just celebrated their 1 year anniversary last month. "We are very excited to have Maru come lead a group at our center and help our clients express themselves and their addiction in a healthy way. Art therapy is a very important part of our curriculum and is a great way for our clients to release their demons from the past."
Maru Anez said in regards to leading the group at Into Action, "My projects have a very humble and simple purpose, to allow others express themselves through painting for everybody to enjoy. In a way, it is a form of 'listening' to what we want to say without words through art, which is a language that everyone knows at heart."
The art therapy group was very well received by the clients and staff at Into Action Treatment in Boynton Beach, Florida, and soon their art work will be immortalized to inspire everyone at the drug detox center.