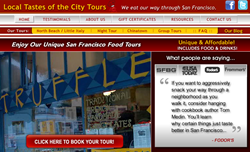 San Francisco, California (PRWEB) March 17, 2013
Local Tastes Of The City Tours is pleased to announce the launch of their all new web portal, http://www.sffoodtours.com, today. This new website is being launched in order to provide tourists to San Francisco, a method of booking tours online. Filled with information about San Francisco, tourists have the ability to learn about San Francisco, and all the sights they should see, before they arrive.
Local Tastes Of The City Tours offers a unique San Francisco experience, and has been, for years now. SFFoodTours.com takes tourists to the most popular and historical locations in the city. Tourists can book these tours online, at Local Tastes Of The City Tours' new website. Enjoy an SF Food tour today with Local Tastes Of The City Tours.
Local Tastes of the City San Francisco Food Tours is a group of passionate, professional, and certified guides with years of experience leading adventures in San Francisco tours. All tour guides live in San Francisco, and are well aware of all the cultural paradigms associated with various parts of the city.
Tourists can go to the new website and book online tours. Rates are as follows.
Adults - $59.00
Youths (12-16) - $39
Children with parent or guardian (8-11) - $15
Children under 8 with parent or guardian - No Charge
The new competitive rate structure makes traveling with your family easy and affordable.