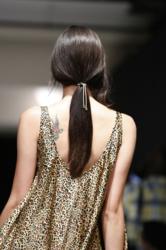 The response has been incredible
New York, NY (PRWEB) March 18, 2013
Pulleez International announced this week the launch of the company's sliding ponytail accessories on online shopping giant opensky.com. Opensky "influencer" Kelly Bensimon recommended the product to her followers, and the line quickly emarged as a best-seller.
"We are thrilled about our collaboration with OpenSky," said Pulleez designer Diana Wright. "The response has been incredible both with sales and with the feedback we are getting from OpenSky shoppers."
OpenSky offers its followers a unique experience. Shoppers add -- or "follow" -- celebrities and experts who share similar interests, to receive recommendations on the latest food, fashion, design and style. The celebrities -- or "influencers" -- carefully select products that they use in real life to share with their followers.
Pulleez ponytail holders were launched at New York Fashion Week. They offer a patented sliding system for holding hair in a ponytail rather than the usual twisting of traditional elastics.
Pulleez are sold at Henri Bendel in NY and select salons and spas throughout the U.S. Retail inquiries please contact info(at)pulleez(dot)com.