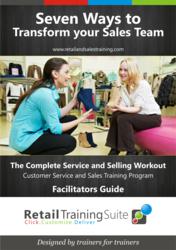 What many teams need is a service shake-up.
(PRWEB) March 19, 2013
Customer service training is top of mind for most retailers, and yet many don't know where to start when selecting a course. External courses are expensive and require a lot of time off the floor; while many managers feel out of their depth, or simply lack the time, to facilitate their own. Without a clear focus on customer service training, it doesn't take long for a team to disengage from its customers - new team members slip into bad habits and long serving ones become bored and apathetic. What many teams need is a service shake-up.
Recognizing this, Authentic Training has developed a customer service training package to help managers shake-up their service culture. Designed especially for small retailers that don't have a lot of time for retail training, the package provides seven simple solutions for standout service and selling. The best thing about the package is that it's designed to be a form of team planning too. A team will come together with their manager and undertake an honest appraisal of their current service offer. Then they develop a vision for where they want to be, and using the techniques in the package, start to bridge the gap. This is different to other courses where the trainer's role is to tell and the team member's to listen. Facilitated this way, everyone is accountable for standout service; staff and managers together make a commitment to go on a journey to deliver world class service. The package is a great way to boost morale and team engagement, while at the same time increasing service and sales.
Of the package, company founder Melissa Davies says "We've identified those techniques that make the biggest difference and developed a customer service training package that focuses on them. When you look at the skills and behaviors of top sellers, there are a few things they do consistently well. For example, they're positive, build rapport and form connections easily, are knowledgeable, engaging, position add-on products well and so on. As a result, they achieve greater levels of sales and customer satisfaction. Our package provides the tools to enable every team member to reach this level of success by focusing on these key behaviors in a way that's quick, easy, fun and only costs $77".
Further information:
Melissa Davies, Company Founder
Authentic Training
http://www.retailandsalestraining.com