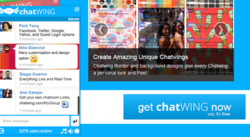 Seattle, WA (PRWEB) March 17, 2013
Wordpress bloggers and website owners can now have better exposure with the newest chat network capability of Chatwing chatroom. By setting up chat networks, participants of the chatbox can now reach many groups of people and they can also get infinite data from their respective niches. The chat network function can be accessed in the Chatwing dashboard and users can join any group in few seconds.
The Chatwing chatbox plays a major part in generating online visibility. A Wordpress website owner will benefit from the chat app in many ways possible. Social media is also another integrated factor to the chatbox because visitors can log in with their Facebook, Twitter, Google, and Yahoo accounts. This simply means that the chatroom admin can now build subscriber groups within days or weeks of usage.
The chat network option attempts to create a spark of global convergence among Chatwing users. Once the user links his chatroom to other chatrooms within a specific group or network, the connectivity is amplified by more than 50%. The developers have stated that this is useful for any online marketing process. More niches will also be added according to the feedbacks of web users and numerous chatroom admins.
By introducing this chat network capability to the Wordpress community, Chatwing.com contributed to the betterment of website chat. Now, more users will also gain ways on how to become more exposed in the online arena. Chatwing's developers will launch more updates to ensure that the chat platform will always run smoothly.
About Chatwing.com
Chatwing.com specializes in the new field of website chat. Over years, the Chatwing team has introduced live chat box for hundreds and thousands of blogs. The Chatwing application bridges people from many parts of the world, creating global synergy through the Internet. The shout box can be installed in just seconds, and it can be used for varying purposes such as leisure and Internet marketing. It also allows a user to customize the size, color, and name of the widget.