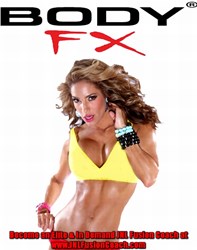 Jennifer Nicole Lee created the JNL Fusion workout method, and the sales are off the charts. Sales show over 5,000 sales per week for JNL Fusion exercise DVDs. Now these DVD customers will be Body FX supplement customers. Enroll at www.JNLFusionCoach.com
Miami, FL (PRWEB) March 21, 2013
Body FX is a dynamic company which has produced top selling fitness products, exercise machines, and now JNL Fusion is the hottest selling DVD program to date. These products have sold over 30 million DVD's worldwide.
Now Body FX is launching an ultra-premium and cutting edge line of break through supplements and nutritionals, which will be sold through JNL Fusion coaches.
Fitness celebrity Jennifer Nicole Lee created the JNL Fusion workout method, and the sales are off the charts. Sales show over 5,000 sales per week for JNL Fusion exercise DVDs. Now these DVD customers will become Body FX supplement customers. The new Body FX coaches will now be assigned to these leads that are generated from the sales. This is a way a fitness expert, JNL Fusion believer, or a personal trainer can monetize their passion.
Body FX will be launching this program the first week of April. Opportunities like this rarely happen, as its a ground floor network marketing business opportunity. To get enrolled, visit http://www.JNLFusionCoach.com