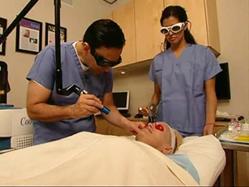 Los Angeles, California (PRWEB) March 18, 2013
According to a March 2, 2013 ABC News article, a Michigan State University study confirms that being treated by an empathetic doctor has the capacity to decrease the awareness of pain. (Go to: goo.gl/fp4mh)
"The study offers empirical evidence that correlates with my own experience," says Dr. Simon Ourian, Medical Director of Epione Beverly Hills. "It's very important for me to develop a positive relationship with my patients; I believe it improves the overall experience with their treatments such as laser skin resurfacing and dermal filler injections."
Researchers assigned nine women to conduct one of two kinds of interviews with a physician before undergoing an MRI brain scan. Some of the participants spoke with doctors who asked about the medication they took, their medical history, and only other very clinical information. The other participants were posed open-ended questions regarding their work and home life, also discussing any concerns that the participants might have had regarding the upcoming procedure.
Mild electric shocks were then administered to the participants while they were shown a picture of a doctor; either one they did not know or the one with whom they had interviewed earlier. All were told that the doctor they did not know was overseeing the procedure. During the procedure, activity in the anterior insula, which makes individuals aware of pain, was measured by MRI scans.
A lower amount of anterior insula activity was registered among those participants whose doctors had spoken with them about other aspects of their lives and helpfully answered their questions, compared to those who were asked only clinical questions. In addition, the former group reported experiencing less pain as a result of the shocks and felt more content with their doctors in comparison to the participants who were asked strictly clinical questions.
"The report also mentions other traits to look for in a physician," says Dr. Ourian. "Patients should look for, and expect, their physician to take the time to listen to their concerns, to be alert and well rested, and to be up to date with the latest medical research. This is excellent, common sense advice."
Dr. Ourian has been a pioneer in laser technology and non-invasive aesthetic procedures including Restylane, Juvéderm, Radiesse and Sculptra. These treatments are used for the correction or reversal of a variety of conditions such as acne, acne scars, skin discoloration, wrinkles, stretch marks, varicose veins, cellulite, and others. More information about choosing a doctor can be found on Epione's website.