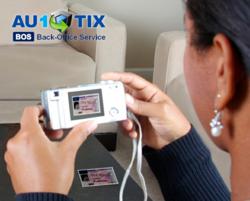 AU10TIX, a pioneer of all-channel ID authentication and record generation, has met the challenge of handling images of ID documents produced using flatbed scanners, mobile phone and tablet cameras, etc.
Nicosia, Cyprus (PRWEB) March 19, 2013
UK's leading fraud prevention service's March 2013 annual fraud report for 2012 may have confronted banks, financial services, gaming services, government services and others with the expected: Tougher economic times foster surging fraud crime. Despite numbers being at a decade record, the fact in itself is almost obvious. What isn't obvious are two very disturbing facts:

80% of fraud crimes are perpetrated online
Till recently technology could offer only limited solutions for helping fight online perpetrated identity fraud
Standard technology solutions are heavily reliant on querying clients' personal data in government or commercial referencing databases - from census to credit rating agency records and from PEP lists to past records. When services are provided online, these screening methods typically rely on data keyed-in by applicant (or fraudster), or on data typed-in manually by back-office personnel or scan-captured from document images (genuine or fraud) submitted applicant (or fraudster) online via upload or email.
Such traditional solutions are quite effective in handling standard printed documents but far less effective in handling images of ID documents. That's because ID documents also contain encrypted data and security features designed to help ascertain the genuineness of the document – i.e. help detect forgery attempts.
AU10TIX, a pioneer of all-channel ID authentication and record generation, has met the challenge of handling images of ID documents produced using flatbed scanners, mobile phone and tablet cameras, etc. The company's BOS (back-office service), already adopted by key players such as GB Group and SafeCharge, has proven considerably more effective than any alternative in handling high volumes of incoming client-produced images of a wide variety of local and international ID documents. Not only can BOS automatically identify document types and check relevant security features but it can also extract, decode and identify both readable and encoded datasets to enable crossing referencing them against internal or 3rd party database resources.
Enterprises using AU10TIX BOS have been very quick to recognize that this system not only enhances fraud protection and deterrence but also offers substantial operating efficiency benefits! These include faster customer processing, faster volume handling capacity, less data errors and gaps, less manual back-office processing needs, less paper-based operation, more effective KYC compliance capabilities, etc.
AU10TIX BOS back-office system complements the AU10TIX FDI front-office system, offering enterprises and governments a very cost-effective solution to cover all frontlines, using standard and existing infrastructures.
For more information, visit http://www.au10tix.com
About AU10TIX
AU10TIX Limited, a fully owned subsidiary of ICTS International N.V, deals with the authentication and digitization of identifying documents including Passports, identity cards, driving licenses and other complementary identifying documents. The company specializes in implementing hardware & software based applications used for scanning, identifying, content retrieval, authentication and validation of identifying documents. AU10TIX is a pioneer of all-channel (front-end and online) ID authentication and processing solutions. The company's products drastically reduce identifying document-based fraud, reducing the costs associated with client processing and enabling effective regulatory compliance, while making the sales and support operations speedier and considerably more efficient.
For more information, visit http://www.au10tix.com
About ICTS International N.V.
ICTS specializes in the development and implementation of innovative security concepts and solutions designed to meet the needs of a variety of industries, mainly aviation transportation, border control and sensitive facilities. ICTS International benefits from over two decades of expertise and international operational experience in transportation security, with a particular emphasis on high-risk environments, passenger processing transactions and the integration of security services to provide a comprehensive security solution. It also offers a wide variety of customized training programs, tailored procedures and a wide range of security consulting services. The company has developed and implemented unique technological solutions, based on its comprehensive approach to security, designed to enhance the level of security while accelerating the security check process.
For more information, visit http://www.icts-int.com
This press release contains "forward-looking statements" within the meaning of the Private Securities Litigation Reform Act of 1995, regarding the Company's business strategy and future plans of operations. Forward-looking statements involve known and unknown risks and uncertainties, both general and specific to the matters discussed in this press release. These and other important factors, including those mentioned in various Securities and Exchange Commission filings made periodically by the Company, may cause the Company's actual results and performance to differ materially from the future results and performance expressed in or implied by such forward-looking statements. The forward-looking statements contained in this press release speak only as of the date hereof and the Company expressly disclaims any obligation to provide public updates, revisions or amendments to any forward-looking statements made herein to reflect changes in the Company's expectations or future events.
Contact:
AU10TIX
Ofer Friedman, Director of Marketing
Email: ofer.friedman(at)au10tix(dot)com
Tel.: +972-50-4 71 71 50
ICTS International NV
Alon Raich + 00-972-974-47770
mail(at)ictsinternational(dot)com