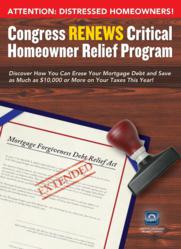 Baltimore, Maryland (PRWEB) March 19, 2013
On January 1, 2013, Congress passed an extension of the Mortgage Forgiveness Debt Relief Act as part of tax bill H.R. 8, the bill addressing the "fiscal cliff." Originally passed in 2007, this act exempts struggling homeowners from paying taxes on debt forgiven in a short sale, foreclosure, or loan modification.
The bill extends the act through December 31, 2013, allowing underwater homeowners to once again pursue alternatives to foreclosure, such as short sales or loan modifications, without the fear of owing thousands and taxes.
Sadly, some six years into the housing collapse it is reported that 7 out of 10 home owners that find themselves facing foreclosure end up losing their home to foreclosure without ever knowing that other options were available to them.
"For distressed homeowners, the extension of the Mortgage Debt Relief Act was amazing news. Before this act, homeowners would negotiate a loan modification or avoid foreclosure through a short sale only to find they owed an equally unmanageable tax debt afterwards, The biggest problem I have seen is that people don't fully understand the benefits of this program and hopefully my complimentary report will answer some of their questions" says Dan McDevitt, Certified Distressed Property Expert with Remax First Choice in Baltimore, MD
As a Certified Distressed Property Expert (CDPE), Dan McDevitt, Baltimore Short Sale Realtor is specially trained to help homeowners who find themselves facing foreclosure. "I'm committed to helping homeowners who are struggling," McDevitt said. "Too often, homeowners facing foreclosure believe there is nothing they can do, but there is."
"In fact, the options available to homeowners are better than ever. Lenders realize how much foreclosures cost, and increasingly favor short sales and other alternatives over letting a home go to foreclosure. Lenders are more willing than ever to work with homeowners," said McDevitt
Dan McDevitt has developed this complimentary report with more information on the Mortgage Forgiveness Debt Relief Act and the options available to homeowners facing foreclosure. a copy of this report is also accessible from His website, http://www.BaltimoreAreaShortSales.com.
About
Dan McDevitt is a Realtor affiliated with Remax First Choice in Baltimore, MD that specializes in working with distressed home owners to assist them in finding a dignified solution to foreclosure. Since 2006 when the housing market began its eventual collapse his team has helped over 200 families in the Baltimore area avoid the devastating effects of foreclosure.