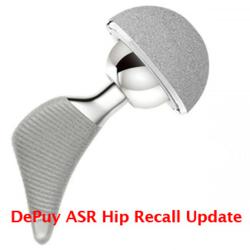 If you or someone you love were injured by a DePuy ASR hip replacement recall device, please visit yourlegalhelp.com, or call toll-FREE 1-800-399-0795
Columbus, OH (PRWEB) March 18, 2013
The DePuy ASR hip replacement recall lawsuit attorneys of Wright & Schulte LLC, an experienced medical device injury law firm, are pleased to report that the litigation surrounding the DePuy ASR hip implant recall is moving forward. While a DePuy ASR hip trial in Maryland that would have been the nation's first was cancelled in January after the plaintiff chose to re-file in federal court, a DePuy ASR hip trial in California Los Angeles Superior Court recently ended with an $8.3 million damage award for the Plaintiff. Shortly after that trial concluded, a DePuy ASR trial in Illinois state court got underway, with testimony to continue this week. (Jackson v. DePuy Orthopaedics Inc., CAL 10- 32147, Circuit Court, Prince George's County, Maryland; Kransky v. DePuy, BC456086, California Superior Court, Los Angeles County; and Strum v. DePuy, 2011-L-9352, Circuit Court of Cook County)
Wright & Schulte LLC is offering free case evaluations to individuals who suffered serious Depuy ASR hip replacement symptoms and complications, including:

Extreme pain (even when not moving)
Swelling and inflammation
Loosening of the implant
Clicking or squeaking from the hip
Dislocation
Bone deterioration
Hip replacement failure
Tissue Death
Metallosis, a reaction to the high levels of toxic metal in the body
Development of fluid filled masses in the tissue near the joint called psuedotumors
Hip replacement revision surgery
For more information on filing a DePuy ASR hip replacement lawsuit, or to arrange for a free legal consultation, please visit yourlegalhelp.com, or call 1-800-399-0795.
DePuy ASR Settlement News
Court records indicate that nearly 11,000 DePuy ASR hip replacement recall lawsuits have been filed since the metal-on-metal hip implants were withdrawn from the market in August 2010. Most claims are pending in a multidistrict litigation in U.S. District Court, Northern District of Ohio (MDL 297). A series of bellwether trials are scheduled to begin in that litigation this spring. According to Wright & Schulte, DePuy ASR trials have been eagerly anticipated by plaintiffs and attorneys alike, as the outcomes will help predict how juries might rule in similar lawsuits.
Last year, three plaintiffs in a consolidated Nevada case did reach DePuy ASR settlements with Johnson & Johnson for roughly $200,000 each. [Rundle v. DePuy Orthopaedics Inc., A-11-636272, Clark County District Court] Late last year, Bloomberg.com also reported that the company offered to resolve all DePuy ASR hip replacement lawsuits for an average of $200,000 per case, but the DePuy ASR settlement offer was rejected as being too low. The news of the first verdict has led to new speculation that Johnson & Johnson could seek again to negotiate a global DePuy ASR hip settlement.
[bloomberg.com/news/2012-08-21/j-j-said-to-pay-600-000-to-settle-first-suits-over-depuy-hips.html]
[bloomberg.com/news/2013-01-18/j-j-said-to-offer-implant-pact-that-may-reach-2-billion.html]
[bloomberg.com/news/2013-03-08/j-j-must-pay-8-3-million-in-suit-over-defective-hip-jury-says.html]
DePuy ASR Hip Recall and the FDA
The DePuy ASR hip recall resulted in additional scrutiny on the part of the U.S. Food & Drug Administration (FDA), which launched a safety review of the devices in 2011. The DePuy ASR and other metal-on-metal hips were brought to market without human testing, under the FDA's 510(k) approval process. In January 2013, the FDA proposed reclassifying metal hips, which would make the devices ineligible for 510(k) approvals. The agency also said that patients fitted with metal-on-metal hips should have metal ion testing and additional screening if they suffered any signs that could indicate their hip might be failing.
[fda.gov/MedicalDevices/Safety/AlertsandNotices/ucm335775.htm]
DePuy ASR Hip Lawsuit
If you or a loved one were a victim of complications related to the DePuy ASR hip replacement recall, it is important to act now to ensure you receive the compensation you deserve for your pain and suffering. To learn more about filing a DePuy ASR hip implant recall lawsuit, please contact Wright & Schulte LLC today by visiting yourlegalhelp.com, or call 1-1-800-399-0795.
About Wright & Schulte LLC
Wright & Schulte LLC, a leading personal injury firm, is dedicated to the belief that America's legal system should work for the people. Every day, the attorneys of Wright Schulte LLC stand up for the rights of people who have been injured or wronged, and fight tirelessly to ensure that even the world's most powerful corporations take responsibility for their actions. If you're looking for a law firm that will guarantee the aggressive and personal representation you deserve, please do not hesitate to contact Wright & Schulte LLC today. Free case evaluations are available through yourlegalhelp.com, or call 1-1-800-399-0795.
Contact:
Wright Schulte LLC
812 East National Road
Vandalia, Ohio 45377
1-800-399-0795