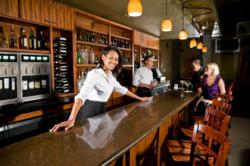 According to Jayne Portnoy, VP Brand Strategy & Marketing for Napa Technology, "With consumer demand for more wine-by-the-glass offerings, the absence of advanced preservation technology will put a strain on operators and their profitabilit
Santa Clara, CA (PRWEB) March 21, 2013
Napa Technology, developer of WineStation 3.0, conducted its third annual survey* asking leading wine industry professionals to share what they see happening in wine trends in restaurants, arenas, hotels, cruise ships, and retail venues.
Informed predictions for 2013 include a continued effort to reach Millennials, greater emphasis on women wine drinkers, and a general pronouncement that wines-by-the-glass programs should stretch beyond the "known" varietals and provide more choices.
Women wine drinkers represent 30 to 50 percent of the total wines-by-the-glass business as reported by our wine experts. Most recognize women, across all age groups, as the key to a robust wine business. According to Marian Jansen op de Haar, Wine Curator for Women of the Vines, and responsible for choosing bottles for MORE magazine's new wine club, More® Uncorked, "Women are much more likely to choose a wine based on a recommendation from a friend and less likely to be as concerned with scores." She adds, "For women wine is an affordable luxury that can be enjoyed every day."
Last year's Napa Technology survey revealed that ordering wines by the glass was on the rise. According to the 2013 survey results, value is the most important reason people order wines by the glass (39.5 percent); with opportunities to taste more wine as the second driver (29.6 percent); and individual palate considerations as the third most important consideration (27.2 percent).
For wine selection trends in 2013 Champagne and sparkling wines were noted by 37 percent as a category that is moving up in popularity, just behind Pinot Noir at 38.4 percent. While traditionally Champagne and sparkling wines have been reserved for special occasions, this survey indicates that they are making inroads into the core rotation of everyday drinkers. According to Michele Smith, Proprietor of Vino Bello, a Burien, Washington, wine bar and wine shop, "Bubbles are on the rise. We carry 10 to 12 splits on the menu from Champagne, Prosecco, and CAVA to Brachetto at all times to keep up with demand. And bubbles are not just for women, men are ordering up as well."
In a previous Napa Technology wine consumption survey, respondents reported that most consumers are savvy enough to know when they're being served an oxidized or otherwise spoiled glass of wine. Although wines by the glass are becoming increasingly important for successful beverage programs, 55 percent of 2013 survey respondents report still using a manual preservation system, and more than 18 percent of operators do nothing to maintain the quality of an open bottle of wine. According to Jayne Portnoy, Vice President Brand Strategy & Marketing for Napa Technology, "Because consumers are so well educated, venues can no longer get away pouring unpreserved open bottles of wine. Their customers can taste the difference."
Napa Technology's WineStation 3.0 poured more than 10 million ounces of wine through its systems nationwide in 2012 and is on track to more than double that number in 2013. Through surveys, studies, WineStation data, and ongoing conversations with leading wine industry experts, Napa Technology remains at the forefront of what's next in wine consumption trends. To view the complete release and quotes from wine industry experts, go to: Napa Technology 2013 Wine Trends Release.
*Commissioned by Napa Technology, the Wine, Women and Boomers survey took place in February 2013. The sample size included a mix of 90 sommeliers, wine directors, restaurateurs, hotel operators, wine producers, media, analysts and wine buyers who were contacted by Angelsmith via a private database, select open and closed social networks and one-to-one phone interviews. Individuals who participated in the survey were existing users of wine preservation systems, non-users of preservation systems, multi-unit restaurant chains, upscale single-unit fine dining restaurants, and national luxury hotel brands.
About Napa Technology
Napa Technology, LLC is a designer and manufacturer of Intelligent Dispensing Solutions for wine that ensure optimum freshness with each pour. The company's breakthrough product, WineStation®, drives revenue and maximizes the profitability of each bottle. Since 2005, WineStation systems have been adopted by foodservice and retail operators as a new way to serve, preserve and capitalize on consumer interest in and demand for the good quality wines.