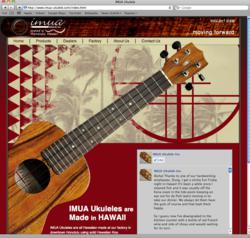 We are delighted and very proud to be associated with IMUA inc. Honolulu Hawaii. From the moment I picked up and played one of these beauties I was hooked, I can say that the build quality, playability and tone is quite incredible, and I have played a lot
(PRWEB UK) 18 March 2013
Ukulele specialists Eagle Music Shop have been appointed by the world class Ukulele company IMUA, to stock and supply their entire range of solid koa, hand crafted ukes.
The IMUA company: Jorma Winkler has been in the koa wood business all his life. After successfully supplying instrument manufacturers around the world with Hawaiian koa from the Big Island of Hawaii, he started an import line of ukuleles which grew successful enough that he was finally ready to make ukuleles in Honolulu Hawaii and partnered with master luthier Shinji Takahashi from Japan. Shinji Takahashi has been building guitars and ukuleles for over 30 years in Matsumoto city near the Nagano mountain range in Japan. In this same area are many famous guitar factories. Shinji is now realising his dream of bringing his master luthier skills to Hawaii, the birthplace of the ukulele.
In Hawaiian language IMUA means, "moving forward; going ahead; looking ahead to the future" The IMUA ukulele is the result of years of planning and the next step in the life of Shinji and Jorma. IMUA ukuleles use Hawaiian craftsmanship and efficient Japanese production techniques to manufacture high quality ukuleles that will last for generations.
IMUA Ukulele Inc. is situated in downtown Honolulu, Hawaii where each individual ukulele is hand crafted. The top, back, sides and headplate of all IMUA ukes are built from solid Hawaiian koa, found on the upper slopes of the Big Island of Hawaii. Special care is taken to match the all solid koa tonewood for the top, back and sides. The fingerboards are built from grade A rosewood and the nut and saddles are crafted from natural bone. A glossy nitro-cellulose finish is used producing an amazing sound desired by professionals worldwide.
Japanese Gotoh tuners are fitted for trouble free tuning. Prices range from £499.99 for the iS solid koa soprano through to £1199.00 for the iT-c5 tenor master grade curly koa.
Eagle Music Shop founder Steve Noon commented "We are delighted and very proud to be associated with IMUA inc. Honolulu Hawaii. From the moment I picked up and played one of these beauties I was hooked, I can say that the build quality, playability and tone is quite incredible, and I have played a lot of ukes in my time! In recent times the ukulele has become increasingly popular and as a result the market has been flooded with far eastern ukulele products. I am delighted to say that this range of genuine IMUA Hawaiian koa ukuleles will complement our world class range of banjos, which includes all the top American brands. I suppose its a matter of evolution really, the finest banjos have evolved out of America and the finest ukuleles have evolved from Hawaii".
Company information: Eagle Music is established as the UK and Europe's largest acoustic stringed instrument specialist and banjo shop. The Huddersfield based company is the select dealership for Mainland USA and Ohana Ukes. Eagle are the world's official number one dealership for the Deering Banjo Co. USA, the selected pemier banjo shop for OME, Prucha, Stelling and Gold Tone. Eagle are presently and have also been the officially appointed UK main dealership for Nechville Heli-Mount Banjos for the past four years. All models are available on the Eagle ecommerce website.
Musician and founder Steve Noon has celebrated more than 40 years in the musical instrument business both as a professional banjo, mandolin, guitar and ukulele player. He is the present folk instrument consultant for The Tanglewood Guitar Company and a prolific collector and respected UK authority on vintage banjos and acoustic stringed instruments.
For IMUA, Mainland USA, Ohana Ukes and more ukuleles see http://www.eaglemusicshop.com
Contact:
enquiries[at]eaglemusicshop[dot]com
Phone: +44 (0)1484 661460
Eagle Music Shop
1 St Pauls House
Brooke's Mill
Armitage Bridge
Huddersfield
West Yorkshire
HD4 7NR, UK