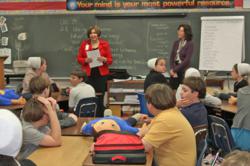 ...These kids will take what they learn home with them and teach their younger siblings and their parents.
Cincinnati, OH (PRWEB) March 19, 2013
Twenty-eight children from the Ohio Amish community at Wise Elementary in Holmes County learned the correct way to perform the Heimlich maneuver recently as part of a Heimlich Heroes curriculum demonstration taught at their school.
The Heimlich Institute of Cincinnati wanted to ensure that children are better equipped to save family and friends from choking deaths-- and prove that heroes come in all shapes, sizes-- and communities.
Heimlich Heroes program coordinator Debbie Wolfer and curriculum developer Michelle Mellea, Ph.D., brought six Heidi Heimlich dolls designed to help students learn how to perform the maneuver. The science class trekked to the gymnasium, where they split into small groups and practiced. Instruction was led by Wolfer, Mellea, science teacher Heidi Olinger, school district nurse Tami Bucklew and local EMT Tracy Cooper.
The 42-inch dolls have a hardily-constructed ribcage that mimics human anatomy and a plastic mouth that expels a peanut-sized foam cushion when the maneuver is demonstrated correctly.
"In Amish communities, children typically leave school after eighth grade, so knowing first aid and the Heimlich maneuver are essential skills," said Bucklew.
"This is lifesaving," said Bucklew. "People are never too young to learn, and what I have found is that these kids will take what they learn home with them and teach their younger siblings and their parents.
"Reaching youth with this kind of lifesaving information is really the place to start this kind of training. They are willing to learn and I have gotten great feedback from parents when it comes to health and safety."
Bucklew is seeking grant funding to have the Heimlich Heroes curriculum return to Holmes County.
The trip into Amish Country was a departure for Wolfer and Mellea, who have focused this year on expanding the Heimlich Heroes program in greater Cincinnati schools.
Wolfer said the Heimlich Heroes program is in 10 schools in Cincinnati and will have reached 523 students by the end of this school year.
Wolfer anticipates expanding into schools nationwide over time. "Hopefully, within a couple of years everyone will know exactly what the Heimlich Heroes program is," said Wolfer. "We want to be able to reach all kids, because Dr. Heimlich feels that all kids can be heroes, no matter the age."
Dr. Henry Heimlich, 93, a Cincinnati thoracic surgeon, developed the Heimlich maneuver in 1974.
"The three-stage curriculum is a fun, educational and lifesaving addition to every school's science department," said Wolfer. "It's about giving the kids confidence to be able to do this. They really can be superheroes; there is data nationwide showing kids of all ages saving lives through the Heimlich."
Wolfer added that the hands-on activity with the dolls allows students to experience lifesaving success firsthand. Practicing the maneuver on the doll reinforces a child's ability to perform it correctly if it would be necessary in real life.
The Heimlich Heroes program has 49 training dolls on hand.
The curriculum meets Ohio's Sixth Grade Curriculum Educational Standards and provides a platform for incorporating language arts, science, health and math into the learning experience.
"We feel it is very important to continue Dr. Heimlich's mission, which is to find simple, creative ways to save lives," said Wolfer. "That's how this came about."
Heimlich Heroes is supported by the Heimlich Institute, which is dedicated to using the creative portion of our minds in medicine and life.
The Heimlich Institute is a subsidiary of Deaconess Associations, Inc., which is based in Cincinnati and provides health care programs, products and services.
# # #
Contact: Debbie Wolfer
Coordinator, Heimlich Heroes Program