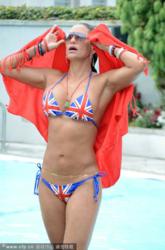 Jennifer Nicole Lee Will Be in London, Apply at www.FitnessModelFactory.com
West Hollywood, Ca (PRWEB) March 17, 2013
Best selling author and internationally recognized super fitness model Jennifer Nicole Lee's management team have finally confirmed JNL's tour dates of Great Britian in the fall for her Fitness Model Factory events as well as promotion of her JNL Fusion Workout Method. Dates just released as JNL's Management team has confirmed that its true Jennifer Nicole Lee will bring her brand to the UK with her Fall tour dates of her Fitness Model Factory 1 Day Mega Event. JNL was spotted wearing a Union Jack bikini and reading a book on London on Friday as she sunned herself in West Hollywood. Showing off the trademark flawless physique, Jennifer Nicole took a dip in the skimpy string bikini that had the Great British flag printed on it.
And carrying on the theme, the mother-of-two added a pair of matching red, white and blue stilettos, and carried a red pashmina over one arm.
Just in case anyone thought that the British theme was simply a style choice, the star wandered around clutching a London travel guide.
Clearly planning on becoming an honorary Londoner at some point in the near future, Jennifer Nicole kept the book close to her, brushing up on all things British.
The fitness fanatic, who is the creator of program JNL Fusion, added some red and blue bangles on her arms, having obviously put a lot of thought into her poolside look.