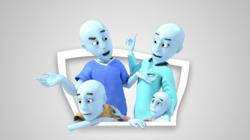 No culture, religion or tradition is an excuse to use violence
Ottawa, Canada & Geneva, Switzerland (PRWEB) March 18, 2013
The United Nations has always condemned violence against women. On March 15 the world community took its strongest step yet by adopting a declaration dismissing any cultural justifications for violence and discrimination against women and girls, including "custom, tradition, or religious consideration."
The explicit wording from U.N. Secretary General Ban-Ki Moon, following the conclusion of the 57th session on the Commission of the Status of Women, states "No matter where she lives, no matter what her culture, no matter what her society, every woman and girl is entitled to live free of fear."
It was Canadian human rights campaigner Firdaus Kharas and his team who first put the message into widespread use with the No Excuses campaign, a series of animated anti-violence public service announcements launched at the United Nations on April 18, 2011.
Targeted squarely at the abuser, the No Excuses campaign tackles the same issues outlined in the recent declaration, with one spot ending with the tag-line "no culture, religion or tradition is an excuse for you to use violence."
Mr. Kharas said, "I welcome the Secretary-General's statement that culture is irrelevant to a woman's right to be free from violence. The tool to prevent culture being used to justify violence is ready and freely available for use by any broadcaster, group or individual".
Available without any charge in multiple languages, the campaign consists of eleven humorous animated shorts of 30 seconds each. The campaign was produced by Caitlin Delaney and Jesse Cressman-Dickinson of Canada, Brent Quinn of South Africa and Jasmine El Mulki of Jordan and Switzerland and animated in the Netherlands and South Africa.
The No Excuses campaign may be found at http://www.noexcusescampaign.org. The spots, available in all the official languages of the United Nations and some others, may be downloaded and used by any user without charge and without restriction.
The launch at the United Nations may be found at http://www.unmultimedia.org/tv/webcast/2011/04/press-conference-firdaus-kharas-on-a-new-campaign-to-prevent-domestic-violence-and-abuse.html
-30-
For further information at for interviews contact Firdaus Kharas at Firdaus(at)chocmoose(dot)com or +1 (613) 820-6121 or +41 78 749 6120.