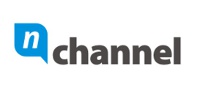 "We're excited to provide so many new connectors that integrate with Microsoft Dynamics at Convergence this year."
Columbus, OH (PRWEB) March 18, 2013
nChannel, creator of the cloud-based multi-channel management platform, announced today the introduction of six cloud-based integration connectors which are being debuted at Microsoft Convergence 2013. Customers using eBay, Amazon and Shopify eCommerce platforms Point of Sale and inventory management systems will be able to easily and quickly connect to existing Microsoft Dynamics SL or NAV, Sage, Point of Sale multi-channel operations, ERP and accounting systems. Connectors introduced during Convergence will be available in Q2.
Microsoft Dynamics NAV/SL, eBay, Amazon, Shopify, and ZoopShop will now be able to sync and connect to the nChannel platform which will communicate item, sales and inventory data between a variety of ERP, Point of Sale, Accounting and web store applications. Additionally, nChannel's Amazon web services connector integrates order and warehouse management, fulfillment and drop ship services with a customer's Microsoft Dynamics GP, NAV, SL, Sage and POS systems. nShop, powered by nChannel and built using the ZoopShop platform, is the first social media storefront publishing platform to enable companies to post individual items for sale to a retailer's social communities such as Facebook and Twitter with integrated inventory synchronization and shopping cart capabilities.
"Sellers can now eliminate up-front capital infrastructure expenses while gaining a fast integration solution that scales with their growth," said Steve Weber, CEO and President of nChannel. "We're excited to provide so many new connectors that integrate with Microsoft Dynamics at Convergence this year."
Convergence attendees are invited to apply for Magento, eBay, Amazon, Amazon Web Services, Shopify, Microsoft Dynamics and nShop connector betas at nChannel's booth #2552 at Convergence Expo Center.
About nChannel
nChannel provides an easy-to-use, cloud-based management platform that enables companies to cost effectively synchronize, manage and exchange sales, customer, and product data from transactions that occur at the register, in the warehouse, or via a web-store. nChannel's centralized, web-based model enables resellers, partners and companies to easily manage sales processes for both wholesale and consumer channels. Using nChannel, subscribers connect their existing Microsoft Dynamics financial, ERP and/or POS systems with any number of external online and offline stores including those powered by Magento, eBay, Amazon, Shopify as well as supporting social storefronts. For additional information about nChannel, please visit http://www.nchannel.com