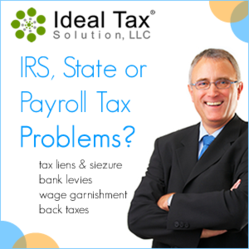 Glitches in the tax filing process are unfortunately not uncommon.
Costa Mesa, CA (PRWEB) March 20, 2013
Ideal Tax Solution, LLC is notifying all of its clients and concerned taxpayers of a review currently underway by the IRS, which is targeting Education Credits on Form 8863 filed with tax returns during the week of February 14 through February 22. The review is targeting a limited number of software company products.
The IRS is working closely with the companies involved to assist in the review and processing of the problem returns. A typical review process for this kind of scenario can take up to 8 weeks. Ideal Tax Solution is reaching out to affected taxpayers in an effort to help them retrieve their refunds in a timely manner.
"Glitches in the tax filing process are unfortunately not uncommon," says Jose Vasquez, a senior marketing associate at Ideal Tax Solution. "We always keep our radar out for IRS announcements like this which could affect our client's refund status."
The IRS says it is taking special steps to resolve the situation, which will allow taxpayers to more quickly receive their refunds. Ideal Tax Solution has learned that because of the additional focus being placed on the software issue, the refund timeframe should fall within a 4-6 week window from the date of this announcement.
The number of tax returns affected by the software issue numbers about 10 percent of the total returns claiming the credit. The status of an affected taxpayer's review can be found by visiting "Where's My Refund?" on IRS.gov, or by contacting Ideal Tax Solution for help in determining the status.
If a taxpayer has not received a refund date after filing in the affected period, the IRS recommends contacting their software provider to ascertain whether or not they might be in the affected group. Ideal Tax Solution can quickly assist in determining a taxpayer's status and expected refund date.
For U.S. taxpayers interested in finding out more about Ideal Tax Solution and their full range of in-depth and personalized tax preparation services, or for any tax help related issue, visit them online at http://www.idealtaxsolution.com. You can also reach them by phone by dialing 888.393.5154. Good tax tips and additional information can be found on their Facebook page and by following them on Twitter.
About Ideal Tax Solution, LLC – Located in Costa Mesa, California, the company provides a full range of tax preparation and resolution services as well as reassurance to taxpayers nationwide. With more than 55 years of combined experience providing American taxpayers with federal and state income tax solutions, Ideal Tax Solution offers an experienced staff which includes Enrolled Agents, CPAs and Senior Tax Consultants who stand at the ready to help with any tax issues.