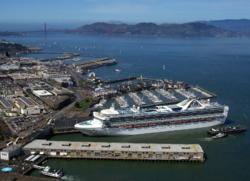 Santa Clarita, CA (PRWEB) March 17, 2013
The first cruise ship to be based year round in San Francisco, Grand Princess, sailed through the Golden Gate for the first time yesterday. The city celebrated the Princess Cruises vessel's arrival by declaring the day "Grand Princess Day."
The ship departed from Pier 35 on a voyage to the Hawaiian Islands. The 2,600-passenger Grand Princess will be based at the Port of San Francisco through spring 2014, offering 37 roundtrip sailings to Alaska, Mexico, and the California coast in addition to Hawaii. Grand Princess will accommodate approximately 96,200 passengers during the inaugural season.
Princess Cruises has a 40-year history of operating cruise ships from the Port of San Francisco.
Additional information about Princess Cruises is available through a professional travel agent, by calling 1-800-PRINCESS, or by visiting the company's website at http://www.princess.com.
# # #
For further information contact:
Karen Candy, kcandy(at)princesscruises(dot)com, 661-753-1540