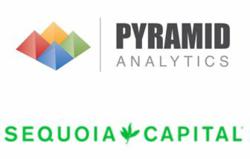 We believe the team at Pyramid have the vision and the technology to provide a very real improvement in helping business users access information in a meaningful way" said Haim Sadger, partner at Sequoia Capital
Amsterdam, Netherlands (PRWEB) March 18, 2013
Pyramid Analytics, the company that brings data driven decision making to business users at all levels in the organization, announces the closing of a $11.5 million funding round lead by Sequoia Capital.
Pyramid Analytics provides tools for data driven decision making to medium & large organizations. Its business intelligence suite is designed to integrate reporting, analytics and dashboards into a single web-based platform, bringing smarter decision making to more people by making business intelligence quicker to implement, easier to use, and simpler to roll out.
"Despite the ubiquity of data in our world, enabling data driven decision making is still a challenge facing organizations of all sizes; we believe the team at Pyramid have the vision and the technology to provide a very real improvement in helping business users access information in a meaningful way," said Haim Sadger, partner at Sequoia Capital and board member of Pyramid Analytics.
"We are absolutely delighted to have a funding partner with such an exceptional track record of building successful businesses join our team," said Omri Kohl, CEO of Pyramid Analytics. "This funding commitment allows us to consolidate our recent strong growth, continue developing our products and scale our business into a leading global BI player."
About Pyramid Analytics
Pyramid Analytics is a leader in innovative BI applications that simplify access to information to help organizations optimize their business decisions. Pyramid Analytics delivers intuitive enterprise level Business Intelligence through a rich, integrated, web-based interface with highly scalable dashboard, analytic and reporting applications for all types of business users.
Pyramid Analytics has a Microsoft ISV BI Gold Competency and is headquartered in the Netherlands with operational centers in Israel, the EU and the USA
About Sequoia Capital
Sequoia Capital provides venture capital funding to founders of startups who want to turn business ideas into enduring companies. As the "Entrepreneurs Behind the Entrepreneurs", Sequoia Capital's Partners have worked with innovators such as Steve Jobs of Apple Computer, Larry Ellison of Oracle, Bob Swanson of Linear Technology, Sandy Lerner and Len Bozack of Cisco Systems, Dan Warmenhoven of NetApp, Jerry Yang and David Filo of Yahoo!, Jen-Hsun Huang of NVIDIA, Michael Marks of Flextronics, Larry Page and Sergey Brin of Google, Chad Hurley and Steve Chen of YouTube, Dominic Orr and Keerti Melkote of Aruba Networks, Jonathan Kaplan of Pure Digital, Tony Hsieh of Zappos, Omar Hamoui of Admob and Steve Streit of Green Dot. To learn more about Sequoia Capital visit http://www.sequoiacap.com/us