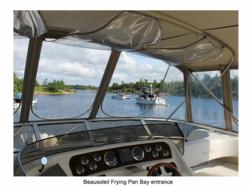 When we initially built the directory, we thought our audience would be a niche market of hard core cruisers. Two years have gone by and the site has exploded in popularity.
Midland, Ontario (PRWEB) March 19, 2013
Boating Georgian Bay (http://www.BoatingGeorgianBay.com), the leading online directory and comprehensive guide dedicated to everything related to boating on Georgian Bay, announces that during the past year, the website received over 4.2M hits. In August 2012, the site received an average of 19,900 page views per day or 3322 unique visitors per day average with peaks of over 5,000 unique visitors. On a yearly average, the site does about 2000 unique visitors per day and the site is getting busier. February 2012 saw traffic of 148,000 hits which has more than doubled to 354,000 hits in February 2013. Boating Georgian Bay's parent company First Page SEO (http://www.first-page-seo.com) is a web marketing business that builds hospitality/tourist directories as a sideline to their main business of search engine optimization and client website development. One of those web directories is Boating Georgian Bay http://www.boatinggeorgianbay.com.
"We built Boating Georgian Bay as a labour of love because we keep our own boat on Georgian Bay and we are constantly amazed at the beauty of Georgian Bay and the North Channel and we wanted to share cruising information with others," says Mark Coles, developer of the web site and Senior Partner of First Page SEO. "Everyone should see Georgian Bay's 30,000 Islands and North Channel region by boat at least once in their life ... just like you might have other wonders of the world destinations on your bucket list," advises Coles.
For folks into boating or cruising, Georgian Bay is indeed one of the world's top yacht cruising destinations. Cruising World Magazine named it in their Top 10 worldwide destinations. There's nothing like the Georgian Bay region topography and it's no wonder it inspired Group of Seven artists to paint the windswept pines, rugged granite and quartz landscape smoothed over by thousands of years by wind, rain and waves.
"When we initially built the directory, we thought our audience would be a niche market of hard core cruisers. Two years have gone by and the site has exploded in popularity," says Coles. "During peak season, the site has its busiest spike on Mondays from 12.30 pm to 2.30 pm and again at 9 pm ... I'm guessing that it's all the hard working people back in the office during their lunch hour dreaming of an anchorage in some quiet cove in the 30,000 Islands," jokes Coles. All the sites pages are high traffic ... fairly evenly split, but the busiest pages that edge the others out are What's New, Favourite Anchorages, Ship Wrecks and Ports of Call.
Coles believes the site may be the busiest marine related site in Ontario. The site places #1 on Google for everything boating, marine and lifestyle related to Georgian Bay, and #1 for broader search terms like "Ontario yacht brokers".
"What we have learned is twofold - First: the appetite for this site extends way beyond just the boaters on Georgian Bay. We get about 1/3 of our traffic from outside Canada. Second: people seem to be interested in many aspects of the site and not only the Bay cruising related topics. For instance, we have the most complete data base of ship wrecks on Georgian Bay that we are aware of. The divers love it. Restaurant reviews, weather and boat products are heavy traffic interests. The bottom line is you don't have to be a Georgian Bay boater to enjoy this site," says Coles.
"Most of all, I'd like to thank our site advertisers ... for without their support, we wouldn't be able to keep the site up to the extent we do with fresh content being added almost every day of the year," adds Coles.
Contact Information:
Mark Coles
Boating Georgian Bay
First Page SEO
PO Box 525
Minden ON K0M 2K0
(705) 286-3656
http://www.BoatingGeorgianBay.com