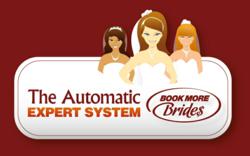 "This is the proven system for a wedding business that allowed us to increase our bookings by 57%, cut our follow up time in half, and raise our price to 3x times our local average."
(PRWEB) March 19, 2013
Book More Brides, the #1 online marketing resource for the wedding industry, presents a free video training series to celebrate the release of the Automatic Expert System Version 2.0. For wedding professionals struggling to get more leads, this course reveals how to create a 90% pre-done follow up system that takes website visitors from lead to booked wedding quickly and efficiently.
The statistics of follow up are bleak. Sales studies from McGraw Hill show that it typically takes 5-12 contacts with a company before the customer will buy. Most wedding business people do not follow up with leads with the required frequency, and they are losing 80% of their potential sales as a result. Simple changes made to follow up frequency and effectiveness will result in a substantial improvement to bride and groom response, generating more leads and sales.
Wedding professionals who respond to leads via email often unwittingly violate anti-spam regulations and commit other common mistakes which can cause their emails to land in the bride's spam folder permanently. Considering the fact that only 11% of email even gets opened and that today's brides prefer to be contacted by email, avoiding these mistakes and mastering the art of getting a response is critical to wedding industry success.
"This is the proven system we've used for our own wedding business that allowed us to increase our bookings by 57%, cut our follow up time in half, and raise our price 228%, resulting in an average wedding income that is three times our local average," say Stephanie and Jeff Padovani regarding the system.
Attendees of this free event will learn to avoid the 10 Follow Up Mistakes wedding businesses make that ruin the sale, the specifics of how, when and how often to follow up to maximize leads, as well as three unconventional yet effective strategies for booking more weddings. They will learn techniques to capture more website leads, attract better quality brides and grooms, and demonstrate their expertise without having to explain their value. This event will be of interest to any wedding industry professional, especially those in the wedding photography or wedding planning business.
This online event for wedding professionals reveals valuable information and strategies that can be used by wedding photography businesses to book more weddings at higher prices. To learn how to attend this limited time event available online from March 19th through April 2nd, visit: http://bookmorebrides.com/aes
About Book More Brides
Book More Brides is the #1 online resource for transformational marketing, business and motivational strategies for the wedding industry. The company provides wedding marketing training and consulting. Stephanie and Jeff Padovani are known for entertaining and empowering wedding professionals with low cost, effective marketing strategies and powerful "anti-price shopper" communication techniques without resorting to sleazy, high-pressure sales tactics or competing on price.