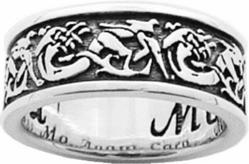 Don't say it, Engrave it
Omaha,Nebraska (PRWEB) March 19, 2013
Pleased to welcome and announce the addition of daughter and writer Michelle Simon to Custom Promise Rings. A graduate student in writing, Ms. Simon specializes in human interest writing as well as drumming up awareness for small businesses. Her impact on the company has been sizable already. Seeking to assist in the awareness of CPR's online presence, she writes common interest pieces for the public. From better knowledge on ring costs through the years, to understanding better jewelry buying, Ms. Simon writes bimonthly newsworthy custom jewelry facts.
Made entirely in the USA, Custom Promise Rings seeks to support local businesses, believing that the hearts of communities get bigger when the local people are supported. Contracted writer Michelle Simon is providing the ten year old company a fresh face for the New Year, generating a heightened awareness for the talented craftsmen and unique qualities of not only her company, but local arts.
Ms. Simon writes to create a platform of discussion on the jewelry market. Making a case for buying locally as well as the immense freedom associated with have with choice to do so. The freedom of having a self designed ring or set of rings without a corporate blueprint for "what's hot in the market today". The advantages of buying handcrafted jewelry from a skilled jeweler increases tenfold when shopped locally, giving a boost to your local community. Ms. Simon writes discussing anything from prices of fine jewelry to the source of local jewels, gems and gold today.
Custom Promise Rings is a growing internet retailer for jewelry, catering to "promise rings for men" and couples "matching promise rings". Adding gemstones or diamonds to raised or dropped borders to any given ring, the choices are endless with CPR. After all, why have something generic when something unique can be created? The rings, made by master craftsman Michael Simon, speak for themselves. A small businessman, he focuses on real customer satisfaction and personalized rings for any occasion.
As a veteran contract jeweler, feel free to ask Mike anything at CPR's website. Have an old silver or gold ring and want to make it new? Or like to make a set of rings to share with a child as they leave for college? The possibilities are endless with ring design and style at CPR. And despite the gold market rising dramatically in recent years, CPR is committed to keeping prices competitive and quality high. Look for Ms. Simon bimonthly as she leads through the art of the small-business jewelry market.
About
Personalized promise rings are a unique way to give a loved one something special for any occasion. Inspired by traditional Celtic and Claddagh rings enabling engraved personalized text names, phrases, dates etc. and even add gemstones and diamonds to make a ring even more unique. Have something matchless to give a loved one by creating a timeless customized ring.
As for men three-dimensional script can make rings appear more masculine where italic fonts can lend a more feminine style for women. Make something for the a committed couple or if preferred a ring between friends or family, mix and match styles to make something distinctive for each other with a similar theme. Custom promise rings are engraved and handcrafted in the U.S.A., made to order, and custom built to be irreplaceable.
Contact company for questions regarding the ordering process or unique ideas regarding modifications.