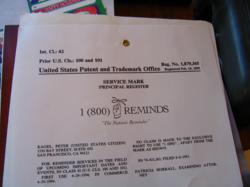 San Francisco, California (PRWEB) March 19, 2013
The 1(800)REMINDS package of domain names, the corresponding phone number and Finger and Bow trademark, and its contemplated use on a message-with-gifts-platform that offers the recording of free companion video or audio messages by gift-buyers that come with each gift as a surprise to remind their gift-recipients of the deepness of their relationships, is up for action on eBay. http://www.ebay.com/itm/1-800-REMINDS-COM-800REMINDS-COM-REMINDS-COM-1800reminds-phone-Trademark-/160994159013?pt=LH_DefaultDomain_0&hash=item257bffe9a5
"The 1(800)REMINDS tag line is 'Want to remind her how much you love her? 1(800)REMINDS. Send her flowers (or whatever the new owner is featuring at the time) from 1(800)REMINDS,'" said Peter Kagel who founded 1(800)REMINDS in 1993. http://www.ebay.com/itm/1-800-REMINDS-COM-800REMINDS-COM-REMINDS-COM-1800reminds-phone-Trademark-/160990657322?pt=LH_DefaultDomain_0&hash=item257bca7b2a
The 1(800)REMINDS platform consists of 1800reminds.com, 800reminds.com, reminds.com, the 1(800)REMINDS corresponding phone number along with the 1(800)REMINDS "Finger and Bow" trademarked logo. The closing date of the auction is March 27. Kagel has placed a reserve of only $25,000. Kagel discusses 1(800)REMINDS in this video.
http://www.youtube.com/watch?v=n3I-4vqmfbM
When coupled with Kagel's suggested messages-with-gifts computer program, 1(800)REMINDS allows gift-buyers to record a companion video or audio message with each purchase to maximize the intended emotional impact of their gifts. Their gift-recipients, while their hearts are full, will see the directions on how to access their waiting messages because they come with their gifts as a surprise.
Kagel stated "The technology is readily available. It just involves having a central computer issue and co-ordinate the gift buyers' and gift recipients' instructions and pin numbers, shipping the gift-recipients instructions on how to access the waiting message with the gift, and the uploading, storage and the playing back of the waiting message from a server. It's no big deal. The system can be set up for gifts bought in brick and mortar stores as well as gifts bought online." Kagel also owns http://messageswithgifts.com/
Kagel made the point that the 1(800)REMINDS package is not readily replicable. "I don't believe that a coordinated set of domain names coupled with a corresponding phone number are readily available. The Finger and Bow in the trademark is universally known as 'don't forget' and is unavailable to a would-be competitor because it is exclusively 1(800)REMINDS' property for this type of service."
Kagel discussed the public's perception of the meaning of 1(800)REMINDS. "The public will easily catch on that the 'REMINDS' in 1(800)REMINDS, when coupled with a video or audio recording from the gift-buyer, means that the gift-buyer has a chance to remind his gift-recipient of his love. Gift-selling retailers are really in the love business. And since gift-buyers are personally vouching for the meaning of their relationships in their messages, the chances are that they will buy more top-of-the-line merchandise. 1800reminds.com and 800reminds.com will feed into reminds.com for simplicity. I believe that the public will eventually refer to the enterprise in shorthand as 'Reminds'."
Kagel emphasized "I've priced 1(800)REMINDS to sell. I put a reserve of only $25,000 on the auction. If someone buys it for just $25,000, it will be a real steal. The platform has all the potential to be a real competitor in the retail world."
When asked why he was selling 1(800)REMINDS instead of running it, Kagel said "I started in the mail room of an advertising agency and ended up being a trial lawyer, 41 years and counting. At this stage of life, lawyering is simpler. In addition, I discovered that I like to write. I wrote a humorous book which explains what everyone should know about the law illustrated through the cases I've handled. If you want to laugh a lot and learn at the same time, my book is titled "Advise, Trials and Tribulations of the Country Lawyer. It's available on Amazon, Nook and iTunes. http://www.amazon.com/Advice-Trials-Tribulations-Country-Lawyer/dp/1456481193/ref=sr_1_1?ie=UTF8&qid=1363370266&sr=8-1&keywords=Peter+Kagel
Kagel concluded, "If you really want to be competitive with the Big Boys, bid on 1(800)REMINDS. The package is being sold 'as is.' All previous offers are withdrawn. Good luck."
-30-
MEDIA CONTACT: Peter Kagel
E-mail: reminds(at)mindspring(dot)com
Phone: (415) 346-9217