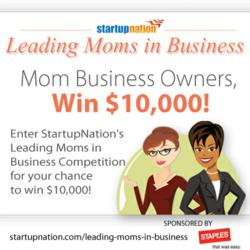 There are approximately 8.3 million women-owned businesses in the U.S., generating nearly $1.3 trillion in annual revenue.
(PRWEB) March 18, 2013
The fifth annual StartupNation Leading Moms in Business Competition is now open and accepting entries, giving mom-owned businesses the opportunity to win more than $10,000. The Competition, sponsored by office products leader Staples, is a ranking of outstanding mom-owned businesses and the inspiring moms behind them. The 2013 Competition website is located at: http://www.startupnation.com/leading-moms-in-business/.
The winner of the competition will be awarded $10,000. In addition, the top three winners will each receive:

$1,000 to spend at Staples
Complimentary VIP business coaching session with StartupNation founders Jeff and Rich Sloan
Complimentary workplace design consultation from Business Interiors by Staples
Winners can also receive priceless publicity—prior winners have been featured in MSN, Bizjournals, ABC News and other high profile media outlets.
Women-owned businesses have a significant impact on the U.S. economy. According to American Express OPEN's State of Women-Owned Businesses Report, 2012, there are approximately 8.3 million women-owned businesses in the United States, generating nearly $1.3 trillion in annual revenue. The report highlights that women-owned businesses employ more individuals than the three largest U.S. employers (McDonald's, IBM and Walmart) COMBINED. Over the past 15 years, the number of women-owned businesses grew 1 ½ times faster than the national average.
Many of these women are moms. The way these moms take care of their families while also running thriving businesses is inspiring. With this in mind, StartupNation's competition is aimed at celebrating the most successful mom-run businesses in the country.
Past winners of the competition confirm that being named a winner had a significant impact on their business. April Marcial, owner of CoverMyHeart.com states, "Not only did [the competition] increase my website traffic, but also increased my facebook and twitter followers. After issuing a press release announcing our ranking, it opened doors that I couldn't have imagined. My sales have tripled since last years competition and the projections this year are even better."
Prior competition winner Nina Rodecker of Tasty Clouds claims, "Winning StartupNation's Leading Moms in Business Competition did wonders for my business. Winning the competition helped me grow my revenue to the extent that I could not have imagined. The exposure I received would be invaluable to any startup business."
Another past winner, Alicia Rittenhouse of Ali Rittenhouse International, states, "Entering StartupNation's 2012 Leading Moms in Business competition definitely helped establish my brand as a leader in the industry. By participating in the competition, it also helped me snag publicity opportunities including a recurring spot on a Lifestyle TV Show."
Mom-owned businesses are encouraged to enter the StartupNation 2013 Leading Moms in Business Competition here: http://www.startupnation.com/leading-moms-in-business/.
About StartupNation:
StartupNation ( http://www.StartupNation.com ) has over 125,000 members, nearly 3 million annual users, and provides over 200,000 pages of business advice and networking for entrepreneurs. StartupNation is a service founded by entrepreneurs for entrepreneurs with the intention of providing a one-stop shop for entrepreneurial success, including blogs from a host of experts, articles, forums, award-winning step-by-step advice, and more.
About StartupNation's Founders – The Sloan Brothers:
StartupNation co-founders and "chief startupologists," Rich and Jeff Sloan, are two of the country's leading small business experts. The Sloan brothers speak frequently at entrepreneurial forums and act as sources for top media venues nationwide. They are authors of StartupNation: Open for Business, published by Doubleday, and provide their insight online at http://www.StartupNation.com. The Sloan brothers are regularly quoted and featured in media such as The New York Times, Wall Street Journal, Fortune Small Business, Entrepreneur Magazine, CNN, PBS, CNBC, MSNBC, FOX News and many others.
###