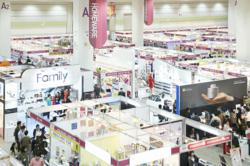 Exhibitors report up to 50 sales consultations per day at SIPREMIUM 2013
Seoul, South Korea (PRWEB) March 18, 2013
The 23rd Seoul International Sourcing Fair for Premium Gifts & Homeware, or SIPREMIUM 2013, held at Coex, Seoul, from March 6-9, culminated last week with raving reviews from participants. Despite the still challenging economic circumstances facing global commercial industries, this years' SIPREMIUM represented an almost 100% increase in size on the 2012 show - with 500 domestic and international businesses showcasing products over 650 booths.
An estimated 20,000 buyers and guests visited SIPREMIUM 2013, which was held under the themes of 'environment-friendliness', 'smart technology' and 'design'.
Post-show interviews with participating companies reveal that the UFI- certified tradeshow has excelled in its aim to help develop and revitalize the Korean consumer goods industry. The particularly large number of commercial transactions made between buyers and businesses at this year's event has reaffirmed SIPREMIUM as the perfect platform to promote mutual, global gift and home-ware trade and business.
Some key exhibitor achievements at this years' show included exhibitor 'J Dreamer Flower Bag Inc', an annual participator since 2008, negotiating sales with up to 2,500,000 of their eco-friendly flower pots with both a major supermarket chain, and two corporate buyers.
Another participating enterprise, 'Amazing Box', attracted sales-talks from cosmetic, pharmaceutical companies and department store chains regarding over 30,000 of their new-concept smart-phone stands. 'Amazing Box' also reported keen attention from overseas buyers from Singapore, Australia, Canada, Japan and the US.
The majority of participating businesses at SIPREMIUM 2013 said that they attracted between 4-50 sales consultations on a daily basis, over the four days of the show.
SIPREMIUM also strives to build on the services it offers to clients year-on-year. One example of this effort is the 'SIPREMIUM Biz-Matching Program'. This program, which took place during the two trade-days of the exhibition, saw Coex-organized business meetings between participating businesses and foreign buyers facilitating the expansion of domestic businesses into the global market, while giving foreign buyers access to hundreds of potential sales partners. 33 foreign buyers from 10 countries around the world engaged in over 500 business meetings, facilitated by Coex, at SIPREMIUM 2013.
Participants were similarly pleased with the results of this Biz-Matching Program. 'Cynoon', a smartphone accessory manufacturer, reported high prospective future sales opportunity and requests for samples during a meeting with a Malaysian buyer. Other businesses, including 'Design Node', 'Design Modu', and 'Living Towel', expressed their expectations in signing future sales agreements with buyers from countries as Singapore, China, Brazil and Malaysia.
Meanwhile, SIPREMIUM 2013 coordinated an educational tour program dedicated to foreign visitors, providing a total of 60 buyers with the chance to gain a full understanding of the distribution flow of domestic promotional materials and gifts market in Korea.
SIPREMIUM has also helped successfully break the traditional stereotype of corporate gift and decorative items being bargain promotional products, by hosting top-quality goods alongside premium art and home-ware.
The next round of SIPREMIUM is scheduled for March 2014. For more information please visit http://www.sipremium.info.
For inquiries please contact:
Won Jeong Choi
T. 82-2-6000-8126
F. 82-2-6000-1319
E. sipremium.info(at)coex(dot)co(dot)kr