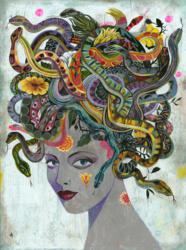 "This is not your mother's astrology," says Mystic.
(PRWEB) March 19, 2013
Mystic recently announced the 'real' astrological new year date for making a fresh start: March 20, 2013.
Her subscribers also get the time of day, depending on their country, along with an astrological 'heads-up' to other potent dates for successful ventures.
The go-to astrologer for artists and actors, academics and entrepreneurs says, "making a resolution, or commencing a new work / life / relationship venture around this potent New Year's Day is like injecting your goal with wheatgrass juice. Timing is everything!"
And by knowing the exact time of day (which she reveals to her loyal subscribers), you're adding a shot of astrological caffeine to your Astrological New Year's Day intentions. Just see how quickly things will shift.
Mystic, (who has a distinctive language all her own), deems the current era the 'Zap Zone', and gives her readers trademark protocol such as Stay Stuck and You are Fuqed, Evolve or Evaporate, and don't let your rut turn into a tar pit.
The Mixed Martial Arts training, vegan minimalist astrologer is a progressive example of her own Evolve or Evaporate philosophy. Her blog has been the focus of her energy since 1999, predicting a shift from traditional media to online which has rapidly taken place. She blends fashion and the occult with sociopathically-accurate forecasts and extremely amusing tips for living.
Mystic rejects the law of attraction types – citing instead the Law of Awesome. She advises her readers on how to spot a Qi Vampire and how to avoid being a Love Zombie.
"This is not your mother's astrology," says Mystic.
"I don't have the luxury of jawing on about new age crap, my subscribers rely on me for insider cosmic info written in an entertaining style to give them the sexual, financial and spiritual edge in a rapidly evolving world."
Mystic has a staunch following of fans across the world and a weekly column in Australia's national daily broadsheet, The Australian.
But it is her entertaining blog, along with subscriber-only content such as daily emails, an addictive online Oracle and Monthly Scheduler, which draw the biggest crowd.
And this Wednesday, the powerfully potent Astrological New Year, they'll be logging on for the low-down on how to make this a year of Awesome.
Cosmic enlightenment has never been so entertaining!