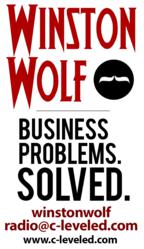 PIttsburgh, PA (PRWEB) March 18, 2013
If one is familiar with a popular 90s crime film, they may come to quickly realize the definition of Winston Wolf Radio. C-leveled, a leading provider of strategic business services, created its first radio program, Winston Wolf Radio, with the pursuit to help solve problems, or challenges, that startup companies may sometimes face.
Winston Wolf Radio airs each month, fourth Tuesday, on Pittsburgh Radio Station, KQV-AM 1410, and is also available in an archive format at http://www.c-leveled.com.
"The entrepreneurs of C-leveled have hosted and recorded a library of six shows to date," said Paulette Duderstadt, Chief Marketing Officer, C-leveled. "Featuring both serial and young entrepreneurs as regular guests to the program, their experience is the best value of our show."
Denise DeSimone, Chief Executive Officer of C-leveled, offers first-hand insight during the half hour show as her career has been dedicated to starting companies. At C-leveled, she is helping start-ups with the strategic process of developing, launching and growing their business.
"Many of our clients have a great concept but just don't know where to go for help or how to get started. Our experienced team and full range of business services help them get their concept off the ground and to market," said DeSimone. "Winston Wolf Radio is just another vehicle for which we hope to reach entrepreneurs with our advice."
March 26th at 7 PM EST marks the next show. This show features two entrepreneurs with two very different businesses; Kelly Collier, CEO/Founder of Activaided, Jeff Eiben, Founder of River Point Technology.
C-leveled, headquartered in Pittsburgh, PA, is a leading provider of consulting and subscription-based software services that position businesses to efficiently navigate in evolving market landscapes. Tools that keep businesses on track, focused and growing, C-leveled caters to rapidly growing business needs from start-ups, growth initiatives for mature companies to business exit strategies. For more information, http://www.c-leveled.com
About Denise DeSimone, CEO/Founder C-leveled
DeSimone has been recognized for her achievements over and over. Most recently she is the recipient of the Ernest & Young 2008 Entrepreneur of the Year for Western Pa, West Virginia, and upstate New York and Pennsylvania's Best 50 Women in Business for 2009. Some of her other achievements include 2007 Southwestern Pennsylvania's Top 5 Women Entrepreneur Recognition, Deloitte & Touche Fast 50 Growth Companies, and Microsoft Partner Development. Denise has also been appointed to several Advisory Boards and is a member of the Women's Professional Organization. She was a 2012 Pittsburgh Business Times Women in Business Award recipient.