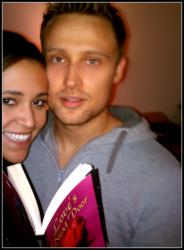 Personalized wedding proposal with a customized romance novel
(PRWEB) March 18, 2013
This year, National Proposal Day and the First Day of Spring fall on March 20th. One Book By You reader decided to welcome in the season of new beginnings with a new beginning of his own—and he wanted Book By You and their personalized romance novels to help.
In this real-life romance, the hero is Jordan Tant, a soccer coach from the U.K., now coaching in Plainsboro, NJ and wildly in love with Emily, the gorgeous heroine—an avid reader of romance novels. Jordan wanted to propose to Emily in a way she'd never forget—and a way she'd never even imagined. That's when he turned to Book By You with a special request: Would the company create a customized novel so personalized that it actually included a proposal to Emily?
Company founder Mike Pocock and his team were happy to help. Jordan gave them all the information needed to personalize the novel Love's Next Door, including his beloved's name, hair style, eye color, and many other physical and personal attributes. Pocock explains: "In the original novel, our hero gets back in touch with a girl he admired from high school, and by the end of the novel, the now-adult pair have finally admitted their romantic feelings. One morning, the heroine notices a blue ribbon hanging from her boyfriend's pocket. She pulls on the ribbon and discovers a ring—and the hero explains that it's a promise ring that he hadn't had the courage to give her when they were in high school."
In customizing the book for Jordan and Emily, Book By You changed the story to include an inscription on the ring given by Jordan to Emily. The inscription read: "Will you marry me?" Pocock adds, "This was the last paragraph of their book so we included a highlighted box beneath the text reading: Emily, we were unable to complete the writing of this special story because, like Jordan, we await the answer to the question: Will you marry Jordan?"
Jordan confirms the plan succeeded: "She read the book and thought it was so cute and loved the story. She had no idea what was coming and was completely surprised. She said yes right away and we've been on top of the world ever since." The pair thanked Book By You for helping them find an unforgettable way to start their new life together.
Jordan and Emily's selection, Love's Next Door, is part of Book By You's extensive collection of thrilling and titillating personalized romances, including four Jane Austen novels, paranormal romances Fierce Moon and Vampire Kisses, and an array of other tantalizing titles. Sci-fi/Fantasy fans will devour our space age page-turner Starstruck. By Magic Bound will cast a spell over steamy adventure-loving witches and wizards, and swarthy swashbucklers can ride waves of passion with Pirates of Desire. Traditional romance fans will love titles like the rockin' reality show romance Love Factor, or Click For Love, an especially fitting romantic romp for all those happy couples who met through the internet dating phenomenon. For couples about to tie the knot, the delectable cake-walk Wedding Favors will sweeten the deal. For reality TV addicts, Book By You has Tropical Treasure, a heated tale of competition and, of course, true love. Got a medical drama fan to shop for? ER Fever will drive their heart rate through the roof. Western Rendezvous makes a prefect read for cowboys and girls, and Racing Hearts will take NASCAR lovers all the way to the finish line, and mystery lovers can uncover more than just clues with Golden Night. Lovers of classic romance will be thrilled by Charlotte Brontë's timeless love story, Jane Eyre, the newest addition to Book By You's personalized classics.
Celebrate the change of season with personalized romances that will put a spring in everyone's step. Romantics can personalize their selection by providing specific information like loved-one's names, features, even favorite drinks and places, and over twenty-five other unique characteristics to make their fantasy world a reality. A spouse, friends, family, and even a pet can be included, too. The result is a full-length novel, available in personalized ebook, paperback or hardcover, that can be further personalized with a customized cover and individual photo for the back cover, making this the most unique gift imaginable.
Book By You's entire personalized collection is now also available as personalized ebooks. Personalized ebooks are available for download immediately upon ordering. To make them especially unique, each ebook includes a free photo upload feature. Add a personalized dedication, and the result is a remarkable ebook that can be taken anywhere and read any time.
To purchase a personalized romance, readers go to the company's website at BookByYou.com and complete a character questionnaire specifying the information to be included in their book. The company offers a free demonstration area where readers can preview personalized excerpts from any of the company's teen, romance, mystery or children's personalized books.
BookByYou.com has received national media coverage and has been featured on ABC's The View, CNN, Fox News, The Wall Street Journal, Jimmy Kimmel Live and many additional media outlets.
BookByYou.com is an interactive publishing company and the world's largest provider of personalized books. Media interviews, promotions and give-aways are available upon request. Please contact Michael Pocock at 1-877-898-1440 or publish(at)BookByYou(dot)com