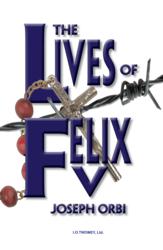 The Lives of Felix V by Joseph Orbi. It is more than a novel. It is prophecy.
NYC, NY (PRWEB) March 19, 2013
IO Twomey announced the Lives of Felix V by Joseph Orbi, an epic novel that begins when two beautiful young children in present day Louisiana reveal the apparition of the Virgin Mary, the Mother of Jesus Christ, who, apparently, had a special message for mankind.
It is that "divine" communication that His Holiness, Pope Leo XIV then reveals to the world in order to further his personal ambitions and the interests of the Roman Catholic Church.
Inspired by the horrors of the second world war, Joseph Orbi weaves little-known and troubling historical incidents in a story of intrigue, manipulation and murder at the very top of the Vatican's hierarchy, at the same time introducing the reader to Pope Pius XII, the great tenor Beniamino Gigli, and World War II's forgotten führer, Ante Pavelić.
Set in Rome, New Orleans, Bosnia and Argentina, the Lives of Felix V frames a beautiful romance against the outrage of religious and political intolerance.
Daring and disturbingly prescient, the novel anticipates four astounding recent events, and a fifth that is slowly unfolding into the unavoidable clash that will change the course of Man's destiny.
This is Joseph Orbi's third novel in as many years. Some of his other works include the very funny Cosa Nostra – which is not about the mafia– and Cenacolo, about ten harrowing days in the life of Leonardo da Vinci.
Currently Joseph Orbi is working on the screenplay for A Lady of Influence, a political thriller set in present day Washington, D.C. and a production of his play Murder A Cappella.
According to the publisher, the Lives of Felix V by Joseph Orbi is more than a novel. It is prophecy.
The Lives of Felix V by Joseph Orbi is available at bookstores everywhere, and online on both, regular and e-book formats.