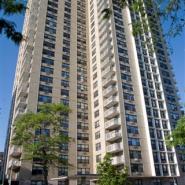 At first glance, it's hard to believe that Oglesby Towers is approaching its 50th anniversary.
Chicago, IL (PRWEB) March 18, 2013
At first glance, it's hard to believe that Oglesby Towers Apartments in Chicago is approaching its 50th anniversary. Indeed, the graceful 25-story building overlooking the southeast corner of Jackson Park could easily pass for South Shore's newest luxury high-rise instead of one of the oldest.
That's due in large part to the results of another anniversary: the five-year anniversary of building ownership by TLC Management Company of Chicago.
Over that time period, TLC has undertaken a series of renovations that have dramatically updated the property, both inside and out. Today, Oglesby's residences are among the most luxurious in the neighborhood, featuring redesigned kitchens with top drawer appliances and 42-inch cabinets, ceramic tile baths, new carpeting throughout, and custom window treatments to complement the panoramic views of the park and lake.
Building amenities and common areas have received comparable attention. A brand new community room and leasing office are now part of the mix, along with a spacious top-floor fitness center, business center with free WiFi, a 24-hour laundry center and newly renovated heated parking garage.
And the interior work has been matched by a complete exterior and mechanical makeover that includes roof replacement and significant façade restorations, as well as comprehensive upgrades to the building's elevators, electrical, plumbing, and safety systems.
The result is a most impressive presence, one that harkens back to the 1960s, when Oglesby Towers was called home by a "Who's Who" of South Shore dignitaries, including big-name celebrities, ambassadors, politicians and industry professionals alike. Then, as now, the property evoked a feeling of classic urban glamour, from the doorman on duty every evening to the location right across the street from Jackson Park Golf Club and within blocks of South Shore Cultural Center, Museum Shore Yacht Club, and of course, the lakefront itself.
Yet Oglesby Towers today remains surprisingly affordable for a luxury apartment in South Shore – again, thanks largely to TLC Management and the company's commitment to delivering the best value in urban luxury rental apartments. The 25-story building houses 24 studios, 119 one-bedroom and 47 two-bedroom apartments; rents start at $730 per month, with heat and water included and no security deposit required. If you're looking for the best value in a South Shore luxury apartment today, look no further. Oglesby Towers is calling you home!
About TLC Management
Since their start in 1997, TLC has provided Chicago residents with the best in lakefront living. TLC Management is a Chicago-based company that exclusively owns and operates thirty-five rental apartment buildings on or near Chicago's lakefront from Evanston on the North to Hyde Park/South Shore on the South. Visit http://www.chicagorentals.com to learn more about TLC Management and their various apartment buildings.