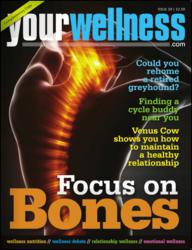 I would suggest this book to anyone who has had problems with their weight or are just uneasy about the foods they eat
London, UK (PRWEB UK) 18 March 2013
Dr Chris Fenn, a Nutrition Consultant and Speaker, considers food to be like a friend. A friend can either be difficult to get on with or a joy to be around. With food, the relationship is much the same; you can be a good friend, or live in fear of it.
So how is this relevant when trying to lose weight? According to Dr Chris, "If you have a negative relationship with food, going on a diet is hopeless". By taking away the food that comforts you, takes away boredom or relieves stress, another problem is just added. He wants people to understand the food they're eating and to start seeing that food as a friend rather than an enemy.
Dr Chris gave Yourwellness Magazine five main points to consider when trying to lose weight:
1. Be honest with your eating. Try something different and step out of your comfort zone.
2. When you talk to yourself, say nice things. Negative self-talk can drag you down.
3. Take the food diary challenge. Write down everything you eat and drink from the moment you wake up to the moment you go to bed.
4. Forget fake foods. Seek out and enjoy foods as close as possible to their natural state.
5. Forget the fear of food. Remember the 80:20 rule – to enjoy natural foods for 80% of the time and know that there will be 20% of the time when you may want to choose 'junk' foods.
Upon reading the article in Yourwellness Magazine, a reader went out and bought the book. After reading it within a few days, Ravina, from Sussex, told Yourwellness; "I now understand why diets don't work. Common sense told me why they didn't before, but now I've read this book I feel I understand why. Easy science is used to convey information and simple solutions are presented to help. I would suggest this book to anyone who has had problems with their weight or are just uneasy about the foods they eat".
Forget the Fear of Food, The Essential Guide, is published by need2knowbooks and can be purchased from most book retailers.
Visit the gateway to living well at http://www.yourwellness.com