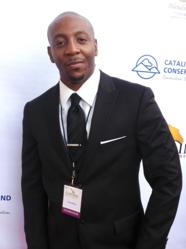 "This is my way to pay it forward" Octavia Spencer
Los Angeles (PRWEB) March 18, 2013
Brooklyn native and award winning director Choice Skinner was recently announced 1st place winner of Oscar winner Octavia Spencer's Facebook Short Film Contest.
Skinner's short "A Second Thought" receives the grand prize of $1000 cash and a Canon EOS 60D DSLR camera with a Platinum 6000 Digital tripod.
In January, Spencer posted a public note on her Facebook asking aspiring filmmakers to post their shorts of any genre on her Facebook fanpage by February 10th of 2013. The requirements were that the shorts needed to be fewer than 20 mins and subtitled if not in English.
In her note she expressed the need for artists to hone their craft and in honor of award season wanted to help someone else to realize their dream stating "This is my way to pay it forward".
Mr. Skinner posted a short film shot entirely on an iphone on her page titled "A Second Thought", a drama about a young man who ponders on a chance encounter with a woman after receiving life altering news.
The film was written, shot, edited and directed by Skinner, co-produced with Farley Jackson and stars Juan B. Gil and Veronica Mejia.
Spencer posted on March 11th a message to her followers on Facebook and a tweet on her twitter page announcing Skinner's film "A Second Thought" as the winning short.
In addition to the contest prizes, the film has also been programmed to screen at the 2013 SoHo International Film Festival in New York City on April 7th at 3:30 PM.
The film's director and male lead actor are scheduled to be in attendance.