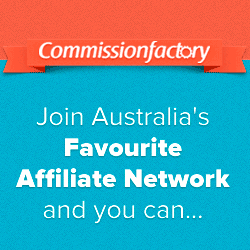 Our team wants to be able to stand on the shoulders of giants.
Maroochydore, Queensland (PRWEB) March 19, 2013
Online service providers have long understood the importance of offering a robust API to their members and the development community to extend reach and generate new opportunities for collaboration.
The search and social giants like Google, Twitter and Facebook recognised the importance of an API as an integrated part of their business model and launched the interface access standard from the very start.
"We have always sought to offer multiple channels of communication from the very start," says Commission Factory Director Zane McIntyre. "We're so glad to finally be releasing our API to the public. The API - as a vehicle for connecting our data to third parties - was always something we wanted to grow in parallel to our everyday platform, but in the beginning we just didn't have the manpower to support it."
"We went to our existing users and asked what they wanted to be able to do and what issues have they experienced in the past with connecting to other affiliate networks. Using this information we have built an API that completely reflects all of the functionality within our network, nothing has been left out and we spent a long time with our team of developers writing documentation that was easy to understand and didn't read like flatpack furniture instructions."
The process of building an API for any company can be a monumental one but is also a catalyst for facilitating growth for any online business.
The Commission Factory development team not only built something that works for them and their members but was built upon tried and tested methods like the REST API, a method used by tech giant Google (among others), and a method that was most appealing to the developers they spoke to.
"Our team wants to be able to stand on the shoulders of giants," said Mr McIntyre. "That is why, going forward, our API will always be improved upon, create new business opportunities, (hopefully) create a community of developers behind us and we'll always continue to align the API with our core values".