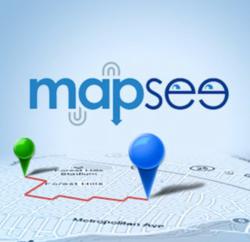 (PRWEB) March 18, 2013
This Utility Mobile Application Mapsee for iPhone was specially designed to record the road routes from one place to another. Once recorded, it can also be shared with contacts that are not familiar with the routes and wish to reach a particular place to meet their clients, customers, friends or family. For example, a person arrives at the airport and wants to go to his office in the city, he can start recording the route and once he reaches his office, can stop the recording and the whole route from airport to his office will be saved and stored by the utility mobile app Mapsee.
Now, one of his clients wants to visit him who is not from the same city and does not know the route from airport to his office. The client can also download this utility mobile app and the service provider who had recorded the road route earlier, can share it with his client using this application. This will make it very convenient for the client to find his way to his service provider's office instead of searching his way through the city he is not familiar with.
During a recent press conference, a senior spokesperson from the company said "We are pleased to introduce this utility mobile app for iPhone developed by our team of excellent designers and developers. So far we have launched various Educational Mobile Apps for kids on various platforms such as iPhone, iPad, Android, Blackberry & Windows and we are now launching various Utility Mobile Applications.
Dev IT Solutions since its inception has been delivering high quality products and services for its clients throughout the globe. This utility mobile application for iPhone has been designed and developed by the team of expert and experienced developers. Many people travel to different countries and cities to meet their clients or service providers and they are not familiar with the routes of that particular place. This application is a boon for people whose clients or service providers are visiting them for the first time and do not know how to reach the designated place.
For more details please visit [http://www.devitsolutions.com/devitmobileapplication/
About Dev IT Solutions
Dev IT Solutions is one of the leading companies providing cutting-edge solutions for Mobile Application Development on various platforms. It has a dedicated team for Development of Mobile Applications i.e. iPhone Application Development, Android Application Development, Blackberry Application Development and Window Mobile Application Development.
iPhone, iPad are trademarks of Apple Inc., Android is trademarks of Google Inc., Blackberry is trademarks of RIM Inc., Windows is trademarks of Microsoft Inc