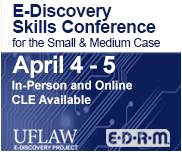 "E-discovery is new to many attorneys, so education is at the heart of our efforts. We are excited to help teach some valuable, very practical e-discovery skills in the upcoming UF course."
Seattle, WA (PRWEB) March 18, 2013
GGO, e-discovery experts and creators of the Digital WarRoom software platform for accessible, affordable e-discovery, announced today that the company will participate in a first-of-its-kind e-discovery conference in Gainesville Florida, sponsored by the University Of Florida Levin College Of Law and the Electronic Discovery Reference Model.
"Electronic Discovery for the Small and Medium Case" will be held on April 4-5, 2013 at the UF Law campus and will also be available as a live, online stream. E-discovery expert and director of Digital WarRoom product operations Barry O'Melia will join a faculty roster of legal and technical experts, conducting interactive sessions on all aspects of e-discovery. The course will provide attendees with practical knowledge on how to competently and cost-effectively handle e-discovery in small and medium cases, and will shed light on the latest developments in Florida and federal e-discovery rules. The conference also will feature demonstrations of the latest e-discovery software and tools for each phase of the e-discovery process, for matters ranging from the most humble lawsuit to the largest mega-case. The conference is part of the UF Law's E-Discovery Project, and is underwritten by the International Center for Automated Information Research, a University of Florida foundation established to promote innovation in information technology. Attendees will be eligible to receive 11.5 CLE credits.
"After 10 years in hosting and managing very large and complex cases, GGO introduced Digital WarRoom specifically to provide legal professionals with an affordable, easy-to-use application for mainstream matters," said Megan Miller, head of marketing for GGO and the Digital WarRoom product line. "E-discovery is new to many attorneys, so education is at the heart of our efforts. We are excited to help teach some valuable, very practical e-discovery skills in the upcoming UF course."
Registration is $199 for in-person participants, $99 for those who wish to attend via live stream, and free to law school and e-discovery students who wish to attend via live stream. Space is limited. Visit the UF Law site to register.
In-person attendees will receive a toolkit of trial licenses for a variety of e-discovery software applications used to preserve and collect electronically stored information (ESI), convert collected ESI to usable forms, perform rapid, powerful searches, and facilitate production of relevant, responsive ESI.
Attorneys, electronic discovery and Litigation Support professionals, paralegals, and IT personnel are invited to visit http://www.law.ufl.edu/academics/ediscovery-conference for complete course information.
About Digital WarRoom e-Discovery Platform
Digital WarRoom is the first e-discovery platform to provide law firms, corporate legal and e-discovery teams with complete ESI processing, document review and production in a single application, eliminating traditional high-cost volume-based processing fees. GGO created the Digital WarRoom technology for in-house use by solo attorneys, corporations and law firms to address document processing, review and production in legal matters of all types. The software is licensed in a variety of forms, addressing any size law firm or matter:

Digital WarRoom Pro, the first Windows PC-based product for e-discovery, allowing an individually licensed user to conduct complete e-discovery on a Windows computer;
Digital WarRoom WorkGroup, a client-server application that allows corporate IT, in-house legal, or law firm e-discovery practitioners to manage e-discovery case data processing, document review and production without high priced volume-based processing;
Digital WarRoom Remote hosted e-discovery, a full-service hosted platform designed for distributed and virtual team access to case data.
The Digital WarRoom platform is unique in its ability to create and save case data in a portable form. A case database created on any Digital WarRoom product can move seamlessly to any other Digital WarRoom product, with all attorney work product preserved. This unmatched flexibility allows organizations to cost effectively handle an entire portfolio of matters in-house, while retaining the option for full-service hosted review on larger, complex and global matters. To learn more about Digital WarRoom visit http://www.digitalwarroom.com.
About GGO
Since 2002, GGO has provided e-discovery hosting services, consulting and project management on over 3500 complex e-discovery matters in response to litigation, government investigations, M&A actions and other legal challenges. Custom services include forensic analysis, target data preservation from Enterprise ECM systems, WIKIs, collaborative tools, web and cloud-based applications, and Gist™ Technology Assisted Review. In 2011, GGO introduced the Digital WarRoom® line of software products, spanning the entire e-discovery lifecycle from capture through processing, review, and production.
Headquartered in Seattle, GGO also provides hosting and services at offices in New York, Santa Clara, San Francisco, Dallas, Los Angeles and London, serving all markets in Europe, Asia and North America. Leading global corporations, Fortune 1000 companies, Am Law 100 law firms, and government agencies, including the Library of Congress, rely on GGO for robust technology and personalized service. To learn more about GGO, visit http://www.ggollc.com