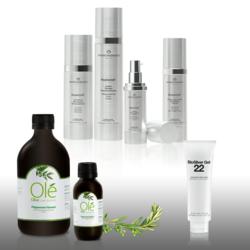 Before launching a product, QNET conducts thorough research into a market's local needs and customizes products to cater to them, as was the case in this instance.
Cairo, Egypt (PRWEB) March 19, 2013
Cairo has one of the highest rates of air pollution in the world, a predicament that has brought about a slew of health hazards for its citizens.
To help Egyptians better protect their health, QNET recently launched three products that promise a safe, efficient, and natural solution. Olé, Physio Radiance, and BioSilver 22, from QNET's range of Nutrition and Personal Care products, contain natural ingredients to regulate and protect the body from external contaminants.
Given the circumstances of the Egyptian society, from pollution to harsh weather conditions, it is important to be able to combat all that with an easy-to-use product. To that end, Olé, a consumable product containing olive leaf extract, provides essential nutrients such as Vitamin C, iron, zinc, selenium, chromium, betacarotene, a wide range of important amino acids, as well as antioxidants, to help boost and protect the immune system.
"The benefits of olive leaf extract have long been espoused. Olé minimizes free radical damage to body cells caused by pollutants, prolonged exposure to the sun, poor diet, and substances such as alcohol and cigarettes. To cater to the primarily-Muslim market in Egypt, we've taken care to get Olé Halal-certified," said Mr JR Mayer, QNET Managing Director.
"Of course, Olé requires fortification through a healthy diet and regular exercise to produce best results."
While Olé helps the body from within, Physio Radiance and BioSilver 22 Gel are skincare products that promote rejunevation and cleansing of the skin.
Physio Radiance is a paraben and preservative-free skin care range that stimulates the regeneration of your skin cells, bringing back more youthful and radiant skin. What sets it apart from similar products on the market, is its patented microencapsulation technology.
"Some skin care companies claim that they have negative hydrogen in their products. However, all skin care products contain water, and it is a fact that negative hydrogen automatically neutralises itself when in contact with water and thus negates its own effectiveness.
To prevent this contact between water and negative hydrogen, Physio Radiance uses a patented microencapsulation technology that protects the negative hydrogen in small hydrophobic balls," explained Mr Mayer.
When the pump mechanism – specifically researched for Physio Radiance products – is pressed, these hydrophobic balls are crushed, releasing the negative hydrogen at the last moment right before application to the skin. As such, the negative hydrogen is utilised without degradation. The airless bottle also protects the product from temperature, oxidation, light and contamination, such as from bacteria, viruses, and fungi.
BioSilver 22 Gel, not only thoroughly cleanses the skin, but also acts as a sanitizing agent for the hands and body.
"Before launching a product, QNET conducts thorough research into a market's local needs and customizes products to cater to them, as was the case in this instance," explained Mr Mayer, reiterating QNET's commitment to the Egyptian market while leveraging on its essential strengths of health, wellness and personal care products.
About QNET
QNET is one of Asia's leading Direct Selling companies with a dynamic online shopping and business community comprising around five million customers and independent distributors around the world. The company offers an entrepreneurial network marketing business opportunity and a portfolio of lifestyle products that have been developed to enhance the lives of its customers through innovation, wellness and luxury. Established in Asia in 1998, QNET utilises the direct sales business model on a proprietary eCommerce platform to market and distribute its exclusive products. The company specialises in everyday, consumer brands as well as high-end luxury goods.
QNET is a member of the Direct selling Association in Malaysia, Singapore and the Philippines.