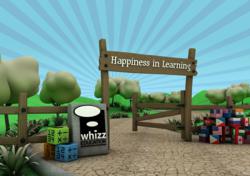 We have always stood firm in our ethos of promoting happiness in numbers and raising standards in numeracy for five to 13 year olds
London, England (PRWEB) March 19, 2013
International online educators, Whizz Education, were awarded the coveted title of 'Education Exporter of the Year' at the Education Resources Awards (ERAs) on Friday night. The gala event took place on the second evening of The Education Show, at The National Motorcycle Museum, Birmingham and was attended by educationalists from across the world.
The judges, an independent panel of experienced educational professionals, felt that Whizz Education and its online maths tutoring service, Maths-Whizz, continued to match the changing needs of schools across the world, working towards the Millennium Development Goal of Education for All.
Maths-Whizz is used by thousands of 5-13 year olds in 8 countries, with major growth coming from the USA, the Middle East and Russia. Responding to the great news, Madeleine White, Head of Strategic Partnerships, Whizz Education, expresses her delight: "We are dedicated to promoting happiness in numbers and raising standards in Maths for five to 13 year olds across geographical barriers. We are also committed to working towards the MDG of Education for All, so receiving such a nod of approval from some of the UK's most renowned educationalists tells us that all our hard work is paying off. Successful products at the ERAs are those that 'stand out from the crowd' in terms of their ease of use and effectiveness in the learning environment. Winning Exporter of the Year is great testimony to the service that Maths-Whizz offers its users. We couldn't be happier!"
The ERAs celebrate the resources, services and people that make a practical impact on learning and the day-to-day work of teachers in the classroom. They highlight the quality and diversity of educational products and resources, excellent educational establishments and the most dedicated members of the teaching profession and supplies industry. The Awards aim to encourage the raising of educational services and product standards throughout the industry and are recognised throughout the sector as the accolade of excellence.
International Development Success Stories:
Mat-Reshka, the first foreign language version of Maths-Whizz to be centrally deployed, continues to be supported in primary schools in Moscow
A subset of localised Maths-Whizz content is deployed via the national E-learning platform in Kazakhstan
A Spanish version of Maths-Whizz is due to launch in Mexico in conjunction with a local partner in the next couple of months
A Thai version of online tutoring service, Maths-Whizz, is planned for launch in Thailand mid-2013 in conjunction with a local partner, Nanmee Books.
Other Recent Award Successes:
Winner, Queen's Award for Enterprise 2012: International Trade
Winner, Education Investor Ed Tech Exporter Award, 2012
Finalist, International Trade Awards 2012
Finalist, Bett Awards 2013: ICT Exporter of the Year