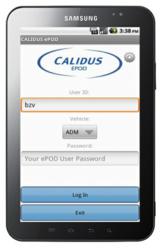 Visit OBS Logistics at the CV Show, stand 3H71, to see CALIDUS ePOD in action
Liverpool (PRWEB UK) 20 March 2013
OBS Logistics will be exhibiting at the Commercial Vehicle Show 2013, meeting with transport and distribution professionals to discuss opportunities for improved transport planning and management using the latest developments in transport management software.
OBS Logistics will showcase its versatile CALIDUS ePOD proof of delivery system that helps improve the delivery process for companies operating their own delivery or collection fleet. Electronic signature and photo capture, plus real-time updates of driver location give full visibility of the supply chain through to the final point of delivery, streamlining the entire process. The system reduces paper-based administration, and time spent on manual data entry.
CALIDUS ePOD can be used across a wide range of industry sectors including automotive logistics, manufacturing and industrial equipment services. This versatility makes it an attractive proposition for large and mid-size companies looking to improve the quality and accuracy of their delivery operations.
The Electronic Proof of Delivery system integrates with the CALIDUS TMS transport management software system for an integrated end to end transport management system that can help to cut running costs by maximising fill rates, reducing empty running miles and optimising journey planning.
Visit OBS Logistics at the Commercial Vehicle Show, stand 3H71, to speak to one of our industry specialists about CALIDUS ePOD.
For more information contact
Kathryn Howarth, Group Marketing Manager, OBS Logistics Ltd (part of the Anisa Group): kathryn(dot)howarth(at)anisagroup(dot)com, tel: +44 (0)151 448 2972
About OBS Logistics
OBS Logistics specialises in creating warehouse management software and transport management software for third party logistics providers and companies running complex logistics operations. OBS Logistics' software customers include Potter Group Logistics, Hanson, NFT, Wincanton, Barnvale Processing and Woodland Group.