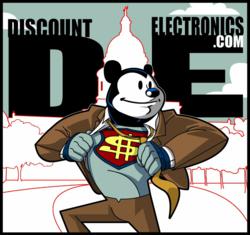 It doesn't make sense that the minimum wage in Austin is the same as it is in Memphis, where a decent apartment can be had for less than $500
Austin, Texas (PRWEB) March 19, 2013
"I believe the minimum wage, $7.25/hour is far from a livable wage for people living in Austin," says CEO Rick Culleton. "I would like to see Austin follow San Jose's example and set a Citywide minimum wage."
Discount Electronics put its money where its mouth - is a made the new minimum wage effective immediately. The company hopes others will follow suit and that Austin City Council will seriously consider a minimum wage for all of Austin.
Discount Electronics starts everyone, including part-time employees, at no less than $10 per hour. "Many jobs start at a much higher rate," said Culleton. "All of our full-time people have access to BCBS heath insurance and a very aggressive 401k matching plan."
Culleton goes on to say, "I have watched housing costs skyrocket in this town over the last three years. There is no end in sight. If people who work in Austin are going to be able to live in Austin we need to control one or the other; housing costs or the minimum wage. It doesn't make sense that the minimum wage in Austin is the same as it is in Memphis, where a decent apartment can be had for less than $500."
Discount Electronics is Texas-owned and operated. The company employs 125 people in Texas and has seven retail locations. Discount Electronics opened in 1997 and was incorporated in 1999. They have been found on the Inc 5000 list of fastest growing companies in America; 6 years running.