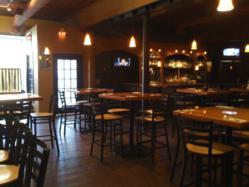 (PRWEB) March 22, 2013
Leading restaurant furniture manufacturer and distributor Affordable Seating recently helped Wellsboro, Pennsylvania restaurant and lounge Timeless Destination revitalize its interior design with new restaurant furniture.
Timeless Destination caters to the full spectrum of picturesque Wellsboro's population. Its varied menu of new age American cuisine features everything from gourmet pizzas to steaks, as well as salads, sandwiches and seafood. Timeless offers daily lunch specials and a kids menu, as well as serving as a key hub for Wellsboro nightlife with its famous lounge, featuring live music acts as well as trivia nights.
"As a venue that pulls in a wide variety of customers at different times of the day, Timeless Destination was looking for restaurant chairs that were versatile," Affordable Seating sales representative David explained.
Timeless Destination owner Jay Hixon decided to go with Affordable Seating's Metal Ladder Back Chair with a black sandblast frame finish and dark mahogany wood seat, which is currently available at the sale price of $31.50.
"The Metal Ladder Back chair was perfect for what Jay and the team at Timeless Destination were looking for," David said. "It's comfortable and functional, with the long-lasting durability that metal gives you, but also has a modern and sleek appearance which is ideal for creating an atmosphere that a hip, young crowd will appreciate, particularly with the black frame finish and the wood seat."
Affordable Seating's Metal Ladder Back Chair is also available in additional frame finishes and can be ordered with a padded seat in a variety of vinyl and fabric upholstery options. However, the solid wood seat which Timeless Destination opted for on its Metal Ladder Back chair is a point of pride for Affordable Seating.
"The quality of our wood seats is one of the things that sets us apart from other restaurant furniture suppliers," David stated. "Most companies use layers of plywood for their wood seats, which is less durable and lacks the authentic look of our real, solid wood seats. You can actually see the wood grain in our seats, whereas plywood has a flat appearance to it. Real wood absorbs wood stain deep into it, so you don't get the scratching and denting common in plywood. And, most importantly, our real wood seats are about 30 percent thicker than plywood seats. They're made to last in a commercial environment, unlike the plywood which starts to crack after a short time," he added.
The low price of Affordable Seating's Metal Ladder Back chair allowed Timeless Destination to update its look and move the business forward without having to spend a lot of money. Thanks to Affordable Seating, the restaurant now has the proper furnishing to match its beautiful 4,500 square foot venue.
To view Affordable Seating's full selection of restaurant chairs, bar stools, booths, tables and patio furniture visit http://www.affordableseating.net or call a customer service representative at (888) 495-8884.
Check out Timeless Destination's menu at http://www.timelessdestination.com or call (570) 724-8499 for more details.