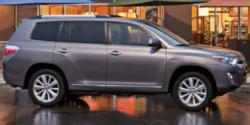 The Toyota Highlander will sport a completely new look for model year 2014.
San Jose, CA (PRWEB) March 18, 2013
Toyota to Update Highlander for 2014
Toyota Motor Co. announced that it would update its highly successful Highlander SUV for the 2014 model year. The Japanese automaker also revealed that it would show the SUV at the New York Auto Show in late March. The hybrid version of the Highlander has been a success for Toyota, which also makes the world's most popular hybrid car, the Prius. The 2013 Highlander was recently selected as a Top Pick by the editorial staff at Consumer Reports, and has won numerous industry awards in its class. For the complete story, see: http://www.myperfectautomobile.com/toyota/toyota-highlander.html
BMW Plug-In Set for New York Auto Show
BMW will reveal its Concept Active Tourer hybrid plug-in at the upcoming New York Auto Show. The 3-cylinder hybrid joins two other BMW vehicles that will be on display at the event, namely the GT and the 328d diesel. The automaker's 3 Series family includes several compact cars. The 328d joins two other models, a hatchback and a wagon, in the 3 Series category. For the complete story, see: http://www.myperfectautomobile.com/bmw/bmw-plugin.html
2015 Volkswagen Golf to Debut
Volkswagen will introduce its 2015 Golf at the New York International Auto Show in late March. Counting TDI clean diesel, GTI and TSI models in the lineup, VW has cut weight and added mpg to the Golf for 2015.For the complete story, see: http://www.myperfectautomobile.com/volkswagen/ny-auto-show.html
About MyPerfectAutomobile:
MyPerfectAutomobile (MPA), a California-based news source for the hybrid, electric, and alternative-fuel transportation sector, covers breaking news on the green car front.
The MPA flagship website has grown into a major presence on the Internet. It features a complete shopping mall as well as a free-to-list classifieds section for all things green. For advertisers, MPA offers the chance to be in front of over 20,000 readers each month who are interested in hybrids and electric vehicles, as well as sustainable transportation in general.
Bob Twaalfhoven: President and Founder of MPA, is an MIT-educated engineer whose primary interest is planetary sustainability.
Larry Judkin, General Manger and Sales Coordinator, has tasked himself with taking MPA to the number-one spot among green transportation websites.
Contact MPA:
Box 18846
San Jose, Calif. 95158
For advertising opportunities, contact MPA directly: Phone: 866-520-5558 Email: driven(at)myperfectautomobile(dot)com Web: http://www.myperfectautomobile.com