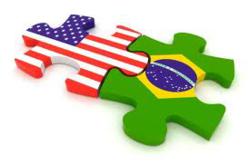 Southfield, MI (PRWEB) March 19, 2013
Stefanini, (http://www.stefanini.com) a global IT outsourcing services firm, today announced that its global CEO and founder Marco Stefanini is joining US and Brazil business leaders for the US-Brazil CEO Forum hosted in Brasilia, Brazil, on March 18 and 19, 2013.
In the United States, the CEO Forum is chaired by the U.S. Secretary of Commerce and by the Deputy Assistant to the President and Deputy National Security Adviser for International Economic Affairs. In Brazil, the Forum is chaired by the Presidential Chief of Staff (Casa Civil) and by the Brazilian Minister of Development, Industry, and Foreign Trade. Twelve companies from each country participate in the Forum.
Created in 2007, the US-Brazil CEO Forum works to promote trade between Brazil and the United States, with representatives of the government and the private sector of both countries.
Forum members include Chairman and CEO of Boeing Commercial Airplanes (retired), Merck, Citigroup (retired), Praxair, Inc., Rockwell Automation, Vermeer Corporation, and others. As a member of the Forum, Mr. Stefanini represents Brazil's IT industry and is a member of the sub-committees responsible for Education and Innovation initiatives to further the exchange of best practices between Brazil and the US.
About Stefanini
Stefanini is a global IT outsourcing services company with 17,000 resources across 76 offices in 30 countries across the Americas, Europe, Africa, Australia, and Asia. Since 1987, Stefanini has been providing offshore, onshore and nearshore IT services, including application development services, IT infrastructure outsourcing (help desk support and desktop services), systems integration, consulting and strategic staffing to Fortune 1000 enterprises around the world. Clients benefit from Stefanini's financial stability, sustained year-over-year growth, and zero net debt. The corporate global headquarters is located in Sao Paulo, Brazil with European headquarters in Brussels and North American headquarters in metropolitan Detroit.