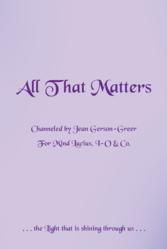 New York, NY (PRWEB) March 20, 2013
What if J.K. Rowling had received the Harry Potter stories from the universe?
Psychic researcher Jean Gerson-Greer believes she did, although she may not really know it! It's the way Gerson-Greer, a life-long channeler, reports that she receives all of her information, including her new mystery book, All That Matters. Gerson-Greer has experienced an amazing attunement to Mind Lucius, I-O & Co.—a compendium of entities from The Christ Consciousness, who have worked through her for over thirty years.
All That Matters follows the tenacious doctor Emma Epstein as she explores a crime buried by decades of silence, and, with this one case, illustrates how we can all help achieve peace in the universe.
Readers will be absorbed by Emma's adventure, as she is assisted by a mysterious pair of cats in an old Victorian house with a difficult and eerie past. By slipping through realities, both as a witness and participant in those past events, Emma assumes responsibility for unearthing the reasons behind the problems faced by all those so closely involved in the strife that has surrounded them for ages.
Gerson-Greer's unique narrative will abate readers' crippling and often-devastating anxiety about the troubling atmosphere of current events. In a world of constant political shifts, as well as geological and solar changes, this book can help us learn to cement ourselves, as spiritual beings, to the simple truth that binds us together.
All that Matters is that we are all connected by an energetic knowledge. It is through this knowledge that we can know about those who came before us and that which is around us currently, if only we try.
All That Matters
By: Jean Gerson-Greer
ISBN: 978-1-4525-5722-9 Hardcover: $37.99
Available at http://www.amazon.com
About the author
Jean Gerson-Greer is a psychic researcher who is passionate about her lifelong role as a channeler. An experienced author, having written for the Sedona, Journal of Emergence!, and with two books published previously to All That Matters, Gerson-Greer has more manuscripts on the way. She is an actor and an active member of the major theatrical unions, and worked on staff for the Screen Actors Guild for many years. She was born in New York City and lives there today
###