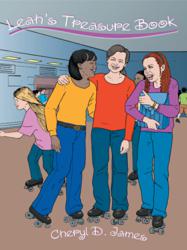 Norfolk, VA (PRWEB) March 20, 2013
This new children's book, titled Leah's Treasure Book, by Cheryl D. James, tells of the situations faced by families in the military and showcases the resilience these families employ in their daily lives. Leah and her family must wait while her father serves a life of duty, and their grace, exhibited by Leah's unabashed curiosity and enthusiasm for life, is an illustration for all.
Shortly before the Thanksgiving holiday, Leah is excited to go on her class' field trip to study Native American landmarks a nearby state park.
But, before she has a chance to explore the park and document her findings through photography, Leah hurts her leg at a skating rink while out with two of her friends! She must now stay home from the school trip. As she recovers, she spends time with her family, as they celebrate the holidays while Leah's dad is away serving in the military at sea.
Leah finds that, even though she had to miss her class' adventure, she still has the chance for discovery. She converts her project book that had been meant for the trip, and makes it into a "treasure book" that showcases all the special blessings in her life.
As Christmas approaches, and Leah's family waits for her father to return, Leah's treasure book quickly fills up with pictures, drawings, and information about the important people in her life. Come Christmas morning, Leah presents the book to her father, as a special gift. The book signifies to the family their strength, love, and bright future together.
Leah's Treasure Book
By: Cheryl D. James
ISBN: 978-1-4624-0422-3 Paperback: $16.99
Available at http://www.amazon.com.
About the author
Cheryl D. James has over thirty years of experience as a military wife and mother. She is a graduate of the Institute of Children's Literature and a member of the Society of Children's Book Writers and Illustrators. She currently lives in Virginia.
###