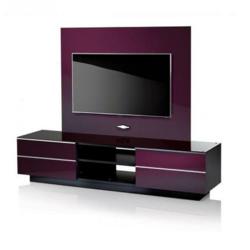 Damson TV stand.
(PRWEB UK) 20 March 2013
FurnitureInFashion is pleased to introduce new Damson TV stand with black background to their already extroverted collection of TV stands. The counterbalanced base and adjustable height let this TV stand be used as a traditional flat panel screen stand and as a lobby stand for visitors in a company. This stylish Damson G-S-180 TV stand with background plate has been constructed by using wood and glass. "The beauty of Damson TV stand lies in its utility as it can be used in different ways," says the MD of FurnitureInFashion. "Not only for homes but even businesses and stores have the option of using Damson TV stand, raising it up high so that people walking by in the lobby or office can't miss the promotional videos and other graphics run by the companies. This TV stand also comes with a storage area which makes it very functional for homes."
The Damson TV stand has been designed to hold TV screen up to 60". The frame of the TV stand is manufactured out of wood and glass for stability. A stable support has been provided at the bottom for maintaining the balance. There is a hollow center to run wires and cables through, keeping them neat and out of the way of people. The SL-700 TV bracket is included in the TV stand. The mounting bracket can be adjusted to hold any flat panel TV in either portrait or landscape orientation. The bracket is VESA compatible and works with a wide variety of existing screen. The Damson TV background plate VESA is of maximum 600 x400 mm.
Sales representative at FurnitureInFashion notes, "TV stands at FurnitureInFashion are manufactured with several years of experience." The Damson TV stand unit comes with an organizer as well. This storage unit has space for 50 CDs and 20 DVDs. This storage area can also accommodate remote controls and other gadgets. The dimensions of the Damson TV stand include width of 180cm, diameter of 44cm and height of 42.5cm. The dimension of background plate for this TV stand includes a width of 135 and height of 150cm.
"One of the greatest things about Damson TV stand is its stability," continues the MD of FurnitureInFashion. "The entire TV stand is balanced which supports to keep it secure and upright while being used in a busy area. Homeowners looking to invest in a TV stand that will last for years will appreciate the Damson TV stand. It gives a very modern and contemporary look and can add luxurious and lavish look to a living room."
FurnitureInFashion has made available TV stands of all types in many different colours and styles to suit customers' offices, homes and other spaces elegantly. FurnitureInFashion provides customers with access to various TV stands so that they can choose the style and colour that meets their specific requirements.
The MD of FurnitureInFashion says "FurnitureInFashion is continuously updating its TV stand catalogue with new and stylish TV stands. FurnitureInFashion makes sure that TV stands also offer storage compartments so that homeowners can make the most of the space available. FurnitureInFashion is offering this TV stand at very affordable price. The company also offer free home delivery service in the UK."
To have a look at this new Damson TV stand and to place a pre-stock order, please visit the company website today at http://www.furnitureinfashion.net. The range of TV stands at the website is huge, delivery is fast, savings are massive and the quality is guaranteed.
About FurnitureInFashion
FurnitureInFashion is a UK based online retail business. It supplies furniture items from its German based warehouse and has a showroom in Bolton, UK. The company provides everything from umbrella stand, wall art and room dividers to bedroom, bar stools and computer tables. FurnitureInFashion offers excellent free delivery within UK and has a fantastic customer service as well. For further information and details about the sale, please visit http://www.furnitureinfashion.net